Former Number One Overall Pick Has Advice For Future Los Angeles Rams Quarterback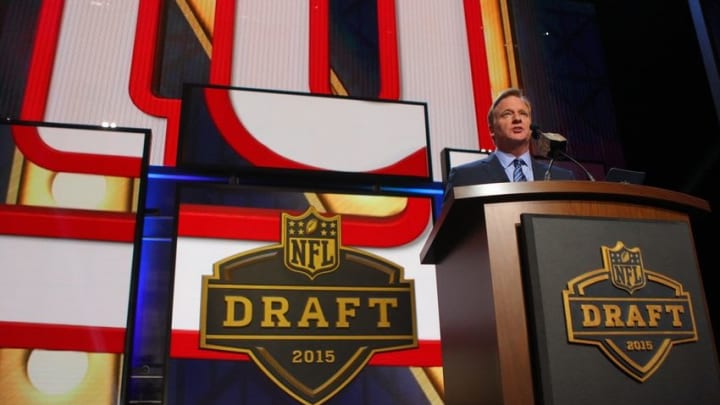 Apr 30, 2015; Chicago, IL, USA; NFL commissioner Roger Goodell announces the number ninth overall pick to the New York Giants in the first round of the 2015 NFL Draft at the Auditorium Theatre of Roosevelt University. Mandatory Credit: Dennis Wierzbicki-USA TODAY Sports /
There is a lot of pressure when it comes to being the number one overall pick, let alone being the new franchise quarterback of a team that just moved to Los Angeles. Whether the Rams draft Carson Wentz or Jared Goff, there is going to be a lot of pressure for either quarterback when they arrive to Rams camp.
As Les Snead has said this offseason,
""I think [at] No. 1, you need to have a special skill set that's going to allow that skill to translate into production on the field," Snead said. "But there's an off-the-field element to it — how that player is going to represent the franchise. Because, guess what, if you get picked No. 1, that's going to stay with you forever. No matter how old you are, [if] you got picked No. 1, you come in the locker room, everybody's looking at you," Snead said. "So you've got to be able to handle yourself there and, I call it, be a team-blender and not a team-divider. Because he's the No. 1 pick, he's been individualized to a certain extent, been put on a pedestal to a certain extent. So when he walks into that locker room, guess what — he comes off that pedestal. No. 1, it really means nothing. 'I'm a part of the group.' And there's qualities in humans that can get us all marching in the same direction. That's the chemistry we're looking for.""
A lot of pressure comes with being the number one overall pick, and because they are picked so high, there is a lot of pressure for that player to be a difference maker and turn the franchise around.
Monday on NFL.com, former number one overall pick, David Carr, who was a bust for the Houston Texans when they first selected the number one overall pick, wrote an open letter to the future quarterback of the Los Angeles Rams who will be chosen number one overall. Here's what Carr had to say:
""Dear future Rams QB,Your life is about to go through enormous change, if it hasn't already. There are many things that come with being not only the No. 1 overall pick in the NFL draft, but the likely starting quarterback of a team dealing with a huge transition in moving from St. Louis to Los Angeles. There are many differences between my journey 14 years ago in Houston and the one you'll have soon in L.A., but I'd like to share some insight to help you adjust to your new role as a rookie quarterback in the National Football League.My first piece of advice: Seek out veteran players and pick their brains. There's a reason those guys stick in the league for 10-plus years, and it's not just because they're more talented than others. I didn't immerse myself into in-depth football talk with the vets in Houston as much as I would've liked. It wasn't until I was with the New York Giants late in my career that I understood the importance of this. Alongside learning how your team and the NFL operates, you'll feel like one of the guys, rather than a separate piece, the untouchable new guy the draft builds you up to be. Having a good relationship with the guys in the locker room is absolutely essential to having success on the field, and it's something you can start working on Day 1.Second, stay committed to your preparation, because there will be a lot of struggles early on.When I was going through the draft process, three-time Super Bowl champion Troy Aikman gave me some great advice. He said, "You're being picked first because your team isn't that good. But be sure you are ready when your team is ready." Although the Rams are better than the teams Troy and I were drafted to at the time, you must continue to stay focused and learn from the negatives. It will help you make great strides and prepare you to lead your team when making a playoff push.Whether or not you start from Day 1, which is very likely, just know that everyone in the Rams facilities wants you to succeed. They all want what's best for you, so don't be afraid to speak up. If you aren't confident in what you're doing, no one else in the locker room will be. Remember, YOU need to be comfortable with what you're running from Mondays to Sundays.And here's the cold, hard truth: Becoming a superstar overnight is a hard thing to deal with. You are going to be praised and criticized — ignore both. Soaking in the praise will only lead to a possible slip in your mental or physical preparation. In the same breath, focusing on negative criticism will hinder your play and ability to lead your team. Make a conscious effort to stay focused, especially in Los Angeles — the city where countless celebrities hit rock bottom, no matter how much money or fame they had. There are a lot of distractions, and a ton of people will suddenly pull at you. It's OK to say no. Frankly, you'll have to in this profession if you want a shot at having a successful career. Keep your inner circle tight and spend your time and energy on the things that are the most important to you.OK, enough with the lecture. The biggest thing that I can share with you is this: Being a quarterback in the NFL is the best job in the world, but it's also probably the hardest thing you'll ever do. When I tell stories to my kids or friends, they look at me as if it's the most interesting thing they've ever heard. And when I think about it, it is pretty cool. That's about to be your everyday, man. You get to make the memories you fantasized about as a kid — celebrating the big win, playing in front of tens of thousands of fans, being down in the fourth quarter with two minutes left on the clock, meeting and playing against your football idols.This is your time to live your dream, and it doesn't last forever. Enjoy the journey and work hard so there won't be any regrets when you walk off the field.Good luck, kid. I'm pulling for you."-David Carr"
One thing that Carr referred to as a key to having NFL success is the importance of having that veteran guy there to help out and "picking their brains". For Goff or Wentz, that's one thing that they are going to be without as the Rams dont have a veteran quarterback on offense. The Rams are the youngest team in the NFL, therefore, while guys like Kenny Britt and Case Keenum will be able to help, it's not going to be like having another veteran quarterback in the locker room.
Carr's second point makes a lot of sense. A lot of rookies that fail in the NFL get lazy with their preparation. Goff and Wentz both seem like they are hard workers and put in all the extra work to succeed, hopefully that continues at the NFL level.
Both players are going to have to deal with adversity and failure early one, it's that simple. Both players have dealt with adversity in the past and used that to succeed. Wentz had to come back from a broken wrist, and Goff had to overcome a 1-11 season as well as a separated shoulder.
The last point Carr makes is probably the most important, and a lot of it has to do with the move to LA. The Rams are no longer in St. Louis, there is going to be a lot of pressure for one of these players to succeed in the big market. There are going to be a lot of eyes on him to be this team's franchise quarterback. It's going to be important for Goff and Wentz to block all of the outside criticism out and focus on their respective games.