Rams Aqib Talib and Ravens Michael Crabtree could provide summertime fireworks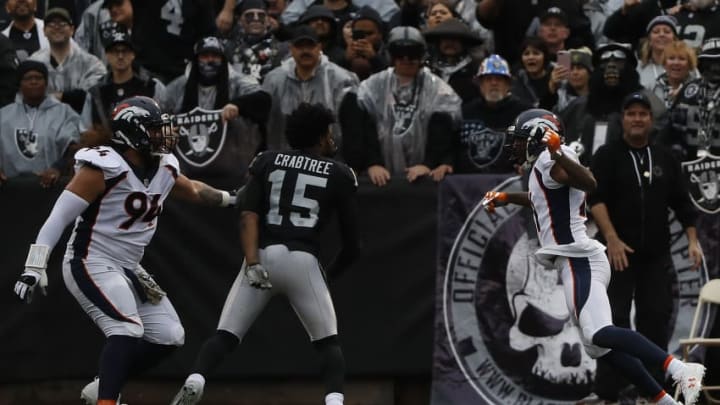 OAKLAND, CA - NOVEMBER 26: Michael Crabtree /
It is only April, but the Los Angeles Rams and Baltimore Ravens have delivered an early treat, as both Aqib Talib and Michael Crabtree will look to reintroduce each other via joint practices and an exhibition game on August 9.
The Los Angeles Rams and the Baltimore Ravens are going to hook up in a few joint summertime practices before an exhibition game on August 9 in Baltimore, as part of the NFL preseason schedule. This means that former Denver Broncos defensive back Aqib Talib and former Oakland Raiders receiver Michael Crabtree will get some time to reacquaint with one another.
Doesn't that make all kinds of sense, these two in joint practices before the requisite dud of a preseason game?
Give the National Football League credit for seeing the potential for a bit of hype in one of four completely meaningless exhibition games.
Hey, at least they tried.
For those fans who forget, and I doubt they did, both Crabtree and Talib engaged in some fisticuffs before being ejected in a game at Oakland last season.
Fun, huh?
It is, but fans can only hope the NFL Network is parked at that camp location with cameras rolling in case those two get together for another round, and trust me, viewers will have their fingers crossed.
Crabtree to the Ravens does takes the shine off of what was hoped for in a matchup between the Rams and the Raiders later in the regular season. Granted, the Jon Gruden versus former disciple Sean McVay looked promising before Talib arrived in LA, and unfortunately Crabtree exited Oakland.
Next: 3 ways the Rams may redefine the 2018 NFL Draft
Either way, the perceived hype helps buy some time while fans wait for the real stuff to kick off. Preseason football has become a remarkably disappointing endeavor meaning very little in the grand scheme of all things NFL.
But hey, at least it's something to get wide-eyed about in early April.