Los Angeles Rams: 3 grades in their Week 2 win against the Cardinals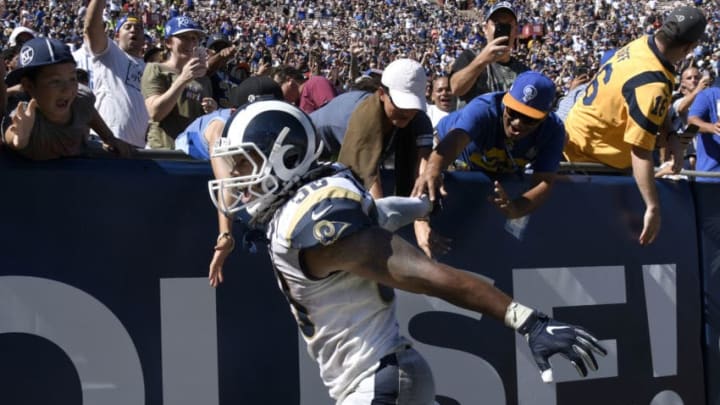 (Photo by John McCoy/Getty Images) /
The Los Angeles Rams win an easy game 34-0 against an Arizona Cardinals team who looks to be a cellar-dweller in 2018.
The Los Angeles Rams wrapped up their Week 2 with a 34-0 dominant win over the Arizona Cardinals. Arizona, who is now 0-2, will undoubtedly be the overwhelming favorite to be the cellar-dweller in the NFC West.
Meanwhile, the Rams look to be not just a division favorite, but maybe a team destined for great things in 2018.
Whoa, that may be too much even after a dominating win.
Fact is, the Cardinals are hapless and pose little to no challenge for Los Angeles or anyone else.
That said, the Rams looked like a team who should and will win the games the teams they should. Meaning we know nothing about facing a team who can play offense on their side of the 50 yard line, or who can match them punch for punch offensively.
Neither the Cardinals or the Oakland Raiders were able to do that. In the next two weeks, that could be different as neither the Los Angeles Chargers or the Minnesota Vikings are like the Raiders or the Cardinals.
Count on fans not to think much about that in the afterglow of two wins over two bad teams.
Either way, the Rams have shown that they can and will beat the bad teams on their schedule. That's good, as that's what good teams do. As for how they grade against a poor team in Arizona, it's not complicated.