Los Angeles Rams: 3 grades in their Week 2 win against the Cardinals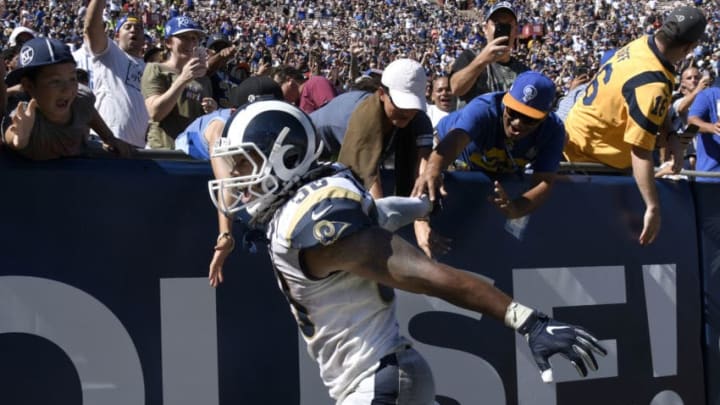 (Photo by John McCoy/Getty Images) /
LOS ANGELES, CA – SEPTEMBER 16: Running back David Johnson #31 of the Arizona Cardinals is tackled by linebacker Cory Littleton #58 and defensive back Lamarcus Joyner #20 of the Los Angeles Rams during the second quarter at Los Angeles Memorial Coliseum on September 16, 2018 in Los Angeles, California. (Photo by Harry How/Getty Images) /
The Rams defense gets a high grade for keeping the Cardinals out of the end zone in Week 2. Arizona, who may have issues beyond the quarterback position, never threatened Los Angeles with a field goal or a touchdown.
Is that great defense or just a bad Cardinals offense?
It's a fair question to ask, as for two weeks in a row the Cardinals looked flat when they had the football. So perhaps just having 11 players on the field is enough.
But hey, that's not fair to what is potentially a great Rams defense.
Aaron Donald and company can get it done against just about anybody. Against the Cardinals, they simply didn't allow Arizona the opportunity to do anything except run three plays and punt, giving the Rams offense plenty of opportunities to put 34 points on the board.
This may be a weekly deal fans, at least until Los Angeles plays an opponent who has actually won a football game.
And therein lies a small problem.
The Rams really haven't played anyone they shouldn't have beaten. Neither Oakland or Arizona appears to be a team who will challenge for a playoff spot or even a .500 record. They just aren't very good.
Credit Los Angeles for beating a team they absolutely should have, and for a star-studded defense doing the job they were signed on to do.
Defense: A+