Los Angeles Rams could see monster game from Jared Goff in Week 8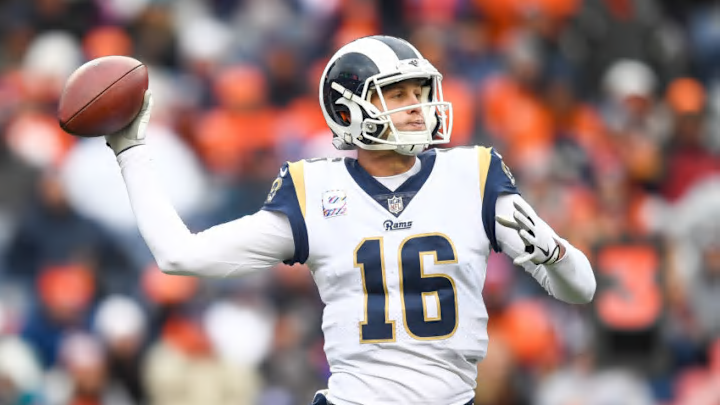 DENVER, CO - OCTOBER 14: Quarterback Jared Goff #16 of the Los Angeles Rams passes against the Denver Broncos in the third quarter of a game at Broncos Stadium at Mile High on October 14, 2018 in Denver, Colorado. (Photo by Dustin Bradford/Getty Images) /
In a game that could turn into quite a shootout, Jared Goff could be in for a monster game in Week 8 when the Los Angeles Rams take on the Green Bay Packers.
Sunday's meeting between the Los Angeles Rams and Green Bay Packers certainly has the potential to be one of the highest-scoring contests from Week 8 when looking at what each team has to work with on offense.
While the Rams have been viewed as the team to beat in the NFC thanks to a high-powered offense led by Jared Goff and Todd Gurley, the Packers will always be considered a serious contender with Aaron Rodgers under center.
One of the main reasons why Los Angeles has been off to such a hot start so far in 2018 with a 7-0 record has been due to the fact that Gurley has already found the end zone 14 times in seven games. But when it comes to the biggest difference maker for Sunday's game, how Goff looks on offense could be the most important factor.
Since Gurley has been doing most of the heavy lifting, the Rams really haven't been forced to see monster numbers from Goff on a weekly basis. However, if this game against Green Bay lives up to the hype from a scoring perspective, Los Angeles may need the kind of performance from Goff like the end of September when the team defeated the Minnesota Vikings.
During that game, it was Goff that came through when needed the most on offense for the Rams after arguably putting together the best game of his career by throwing for 465 yards to go along with five touchdowns.
Matching these kind of numbers against the Packers may seem like a long shot, but also when seeing how their defense looked before the bye week, it really doesn't sound like that much of a stretch.
Even with Cooper Kupp continuing to deal with a MCL injury, Los Angeles still has plenty of weapons for Goff to work with on offense beyond Gurley such as Brandin Cooks and Robert Woods.
For obvious reasons when seeing how production he's been, Los Angeles is going to feed Gurley the football as much as possible since even in games where he struggles, the former Georgia star still manages to find ways into the end zone.
Of course, if the Packers' defense manages to find a way to keep Gurley in check and out of the end zone, at least the Rams have every reason in the world to feel confident about putting up a ton of points with Goff under center.
If this does end up being the case with Goff, Los Angeles could be looking at an 8-0 start heading into November, which is amazing to take into consideration when looking at the expectations surrounding this team a few months ago.