Los Angeles Rams: 4 bold predictions for Week 10 against the Seahawks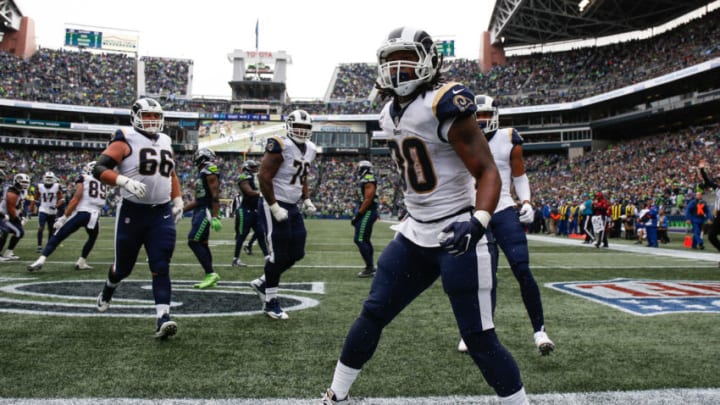 (Photo by Otto Greule Jr/Getty Images) /
(Photo by Otto Greule Jr /Getty Images) /
If talent is the great equalizer in the National Football League, then the Week 10 matchup is an easy pick. From top to bottom, and especially at the head coaching position, the Los Angeles Rams are the best team on the field and ultimately have the best personnel come Sunday afternoon against the Seahawks.
That's no small consideration.
But the Rams defense was exposed in a big and significant way in their game against New Orleans. They can't defend against the pass, and their rush defense is nothing to get fired up about. Drew Brees, a Hall Of Fame quarterback for sure, made Wade Phillips and Company look mediocre at best.
That doesn't change in a weeks time.
The Rams are who they are. They have an 8-1 record, an explosive offense, great special teams, and the best head coach in the league.
They also have a cornerback named Marcus Peters who they have to rely on.
Ugh.
Ultimately and as I said a few words ago, if talent ultimately wins out, then the Rams win going away. When all is said and done, Los Angeles may be the team most capable of scoring a ton of points because of numerous weapons.
Seattle just doesn't have that kind of artillery.
The Seahawks hang around but so do the Rams. Both teams score a lot of points, but ultimately, talent wins out in Week 10 when it didn't in Week 9.
Los Angeles Rams-38
Seattle Seahawks-29