Rams fans miss out on Fandom 250 again, but that should change in 2019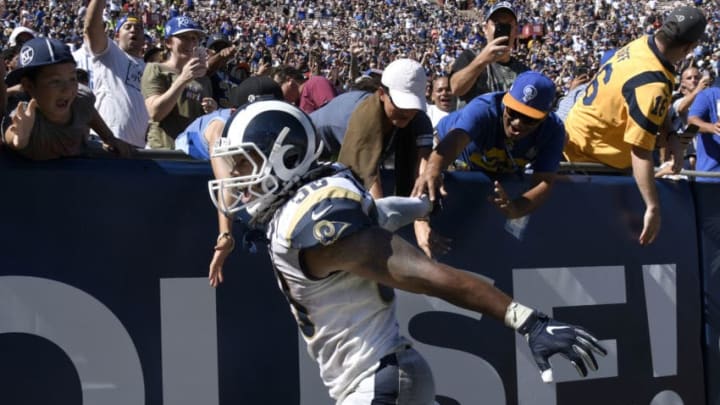 (Photo by John McCoy/Getty Images) /
Despite missing out on FanSided's Fandom 250 rankings once again, Los Angeles Rams should be hopeful for 2019.
Moving back to California before the 2016 season was easier for the Los Angeles Rams when compared to other teams in their situation since they already had a strong fan base from the days before moving to St. Louis.
Even more exciting, the fan base of the Rams seems like it has continued to grow stronger over the last two seasons since Sean McVay wasted no time making this team a strong Super Bowl contender.
Unfortunately when it comes to the FanSided Fandom 250, which ranks the top fan bases in the world, it looks like Rams fans came up short once again.
Each year, FanSided conducts fandom rankings that range from sports to entertainment, and while it was disappointing to see
Even though there were only 19 NFL teams to make the list, one would assume that a team like the Rams on the rise over the last two years would have been able to make the list for the first time since moving back to Los Angeles.
As mentioned before, what McVay has been able to accomplish in such a short period of time has been truly amazing to witness, as the Rams are built strong enough to be serious contenders in the NFC for years to come.
With this in mind, the fan base of the Rams will hopefully only continue to grow and get stronger over the next couple of years, which would also mean the chances of them showing up on the Fandom 250 in 2019 sounds promising.
Either way, whether fans are disappointed or not, the good news is Los Angeles still has one of the best football teams in the NFL, and it's going to be exciting to see what kind of magic they put together come January in their quest for a Super Bowl title.
Two years ago, this team gave fans little to cheer about when seeing how they were one of the biggest laughing stocks in the NFL with only four wins to their name while averaging just 14 points per game.
Seeing how the Rams sometimes have little trouble scoring 14 points in a single quarter, isn't it amazing to think how quickly things can change? Without question, it's certainly given the Rams fan base more to cheer about, especially the ones in Los Angeles who waited all of those years to have a football team again.