Jordan Howard could have been great one-year rental for Los Angeles Rams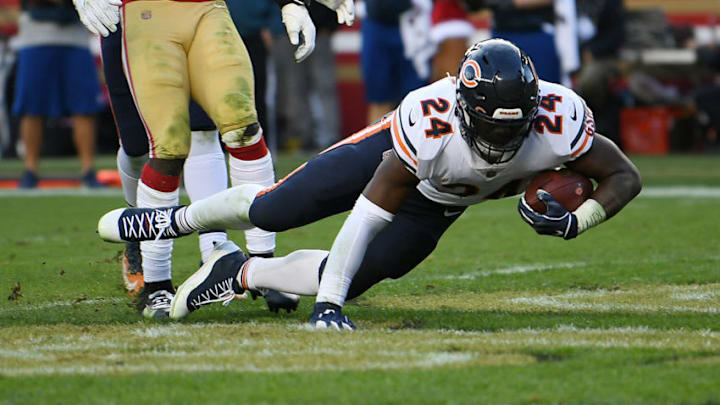 SANTA CLARA, CA - DECEMBER 23: Jordan Howard #24 of the Chicago Bears scores a touchdown against the San Francisco 49ers during their NFL game at Levi's Stadium on December 23, 2018 in Santa Clara, California. (Photo by Robert Reiners/Getty Images) /
When looking at what the Philadelphia Eagles gave up to acquire Jordan Howard from the Chicago Bears, the Los Angeles Rams should have considered the running back for a one-year rental.
Due to Todd Gurley dealing with arthritis in his knee, the Los Angeles Rams have already made it clear they would take a different approach with their beloved running back during the 2019 season to make sure they don't overwork him too much.
As Rams fans know, the end of the regular season along with the playoffs made it clear that Gurley may not be as much of a workhorse as previous years for the Rams. And since it looks like C.J. Anderson won't be back, it looks like Malcolm Brown will be the one sharing the carries with Gurley for the most part in the backfield.
Potential wise, it will be interesting to see how things play out with Brown if he does end up receiving an increased role for Los Angeles in the backfield.
However, when looking at the recent deal involving the Philadelphia Eagles acquiring Jordan Howard, it's tough not to wonder if the Rams made a mistake, and should have considered the former Chicago Bears running back for at least the 2019 season.
Right away, words can't even describe how frustrating it is to see what the Eagles gave up to acquire Howard from the Bears since this is easily a no brainer, and looks like an absolute steal.
In regards to the Rams, the situation shouldn't be any different since if they knew acquiring Howard would only take this kind of draft pick, this would seem like a no brainer on their end as well.
Even if Howard most likely would have been a one-year rental since he's entering the final year of his favorable rookie contract, and would have to accept being the No. 2 running back behind Gurley, this would still seem worth it for Los Angeles.
For a team that didn't have any problem with their win-now mindset last year to put them in  the best position possible to make a run at the Super Bowl, Howard would fall right into this category.
Plus, with all of the concerns surrounding Gurley's knee heading into 2019, acquiring Howard would have at least provided the Rams with some insurance at running back just in case, but unfortunately there's nothing they can do about it now since the deal is already done.