Devin Singletary could be solid insurance for Rams at running back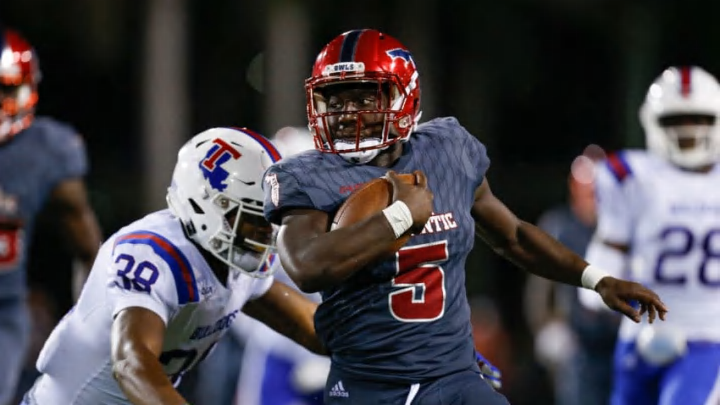 BOCA RATON, FL - OCTOBER 26: Devin Singletary #5 of the Florida Atlantic Owls runs with the ball against Darryl Lewis #38 of the Louisiana Tech Bulldogs during the second half at FAU Stadium on October 26, 2018 in Boca Raton, Florida. (Photo by Michael Reaves/Getty Images) /
As the Los Angeles Rams continue to prepare for the upcoming 2019 NFL Draft, Devin Singletary is a name worth keeping an eye on at running back.
Based off the end of last season along with the playoffs, the Los Angeles Rams seemed like they were going to take the approach of a new duo at running back in 2019 led by Todd Gurley and C.J. Anderson.
Gurley may still be in the picture, despite concerns surrounding the arthritis the Pro Bowler is dealing with in his knee. But when it comes to Anderson, well since the veteran is unsigned at the moment, it's safe to assume the Rams decided to move on, as painful as that decision must have been.
Not to mention, Los Angeles seemed to send a pretty strong sign that Anderson wouldn't be back when they made the decision to match the offer Malcolm Brown previously received from the Detroit Lions, so it will be interesting to see how this all plays out next season.
With that being said, the Rams are well aware there are no guarantees for the 2019 season when it comes to Gurley returning to his old ways of being a workhorse at running back since the NFC Championship and Super Bowl 53 drew major concerns over his knee injury.
Time will tell when it comes to seeing what Gurley's knee actually looks like in a meaningful game, but at least with numerous running back prospects to consider in the upcoming draft, Los Angeles would be smart just to select one for insurance purposes.
That's where Florida Atlantic's Devin Singletary could come into play, as the running back is already drawing interest from numerous teams, and rightfully so since he is already showing signs of being a top prospect at his position.
Plus, with the Rams already meeting with Singletary earlier in March, this should be viewed as a sign that Los Angeles will have the running back on their radar since he would be tough to pass on if still available when the team is officially on the clock.
Singletary is one of those running backs with plenty to like when seeing what he can bring to the table, but watching him rush into the end zone 54 times over his final two seasons at Florida Atlantic is absolutely insane to think about.
Hopefully, Gurley does eventually return to his normal ways so the Rams don't feel as helpless without their star running back, but also when looking at all of the teams across the NFL that use two running backs, why wouldn't they consider Singletary as well?
Even if the original plan involved Singletary being an insurance policy to Gurley if the interest was there, Sean McVay would find a way to get him involved on offense since this will only make Los Angeles that much more dangerous.
So while the Rams are expected to have numerous players in mind when it comes to the draft towards the end of April, Singletary is one name to keep an eye on moving forward since the thought alone of him being part of this explosive offense sounds insane to think about.