Dalton Risner could help Rams fill need at offensive line in upcoming draft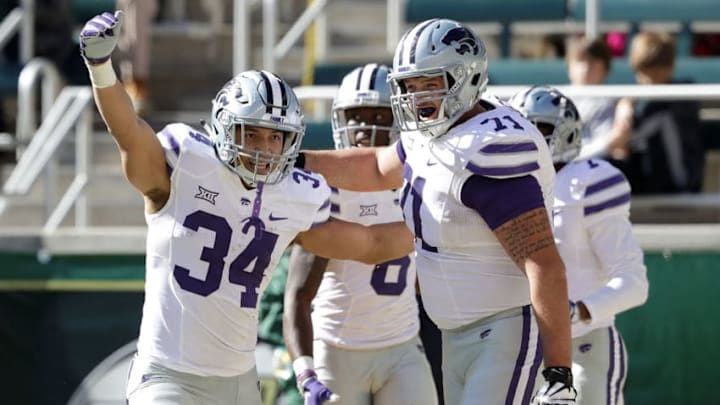 (Photo by Ronald Martinez/Getty Images) /
Dalton Risner is just one of numerous players the Los Angeles Rams are expected to consider in the first round of the 2019 NFL Draft.
In a matter of weeks, the Los Angeles Rams will be taking part in the 2019 NFL Draft with the hope of filling numerous needs, whether it has to be on offense or the defensive side of the football.
With the No. 31 pick in the first round, the Rams will most likely take the approach of seeing who happens to be the best player available with a few positions in mind, one of which could be Kansas State's Dalton Risner.
Looking at all of the teams that need help with the offensive line, numerous teams are expected to give Risner a serious look since he seems like the kind of rookie that can make a serious impact right away in 2019.
As for Los Angeles, this team has managed to put together one of the top offensive lines in the NFL over the last two seasons thanks to Sean McVay, but there is some uncertainty surrounding the unit heading into next season.
Right away, the Rams received some of the best news possible a few weeks ago when Andrew Whitworth announced he would be back for another season to put the team in better position to make another run at the Super Bowl.
However, Los Angeles is smart enough to know that Whitworth could very well be heading into his final season with the team. And when also taking into consideration that Rodger Saffold joined the Tennessee Titans in free agency while John Sullivan was released by the team, it's easy to see why there are some questions surrounding the offensive line.
The good news for the Rams is despite these questions at the moment, McVay is one of the best coaches in the league for a reason, and should hopefully have the unit in tip-top shape by the time September rolls around.
Could Risner help put Los Angeles in better shape with the offensive line if the team ends up going offensive line in the first round?
Risner certainly has the kind of blocking ability that McVay would love to see on his offensive line, so if Rams fans are looking for prospects to keep an eye on over the next few weeks, he certainly seems worth following if still available at No. 31.