Rams should be keeping an extra eye on Jimmy Garoppolo's rehab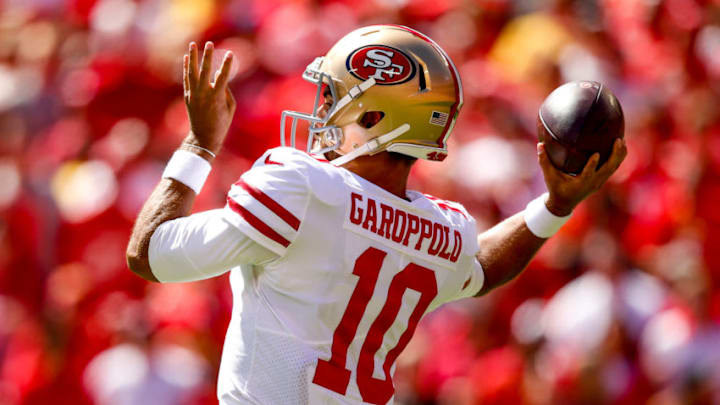 (Photo by David Eulitt/Getty Images) /
The Los Angeles Rams know the 2019 season will be much different in the NFC West once Jimmy Garoppolo is back at full strength for the San Francisco 49ers.
Around this time last year, there was all sorts of hype surrounding the revived rivalry between the Los Angeles Rams and San Francisco 49ers, mainly due to the quarterback battle that was set to take place for years to come.
While the Rams finally found a quarterback to build the franchise around in Jared Goff after struggling to find someone reliable for years, the 49ers were thrilled that Jimmy Garoppolo seemed to work out for the best.
Towards the end of the 2017 season, San Francisco acquired Tom Brady's former backup from the New England Patriots, and watching Garoppolo finish the year on a high note by going 5-0 as the starter showed what kind of potential he had with the offense.
Even more exciting, the presence of Garoppolo, and his winning attitude seemed to be exactly what the 49ers needed to have a better chance of competing with Goff and the Rams in the NFC West.
Unfortunately, a torn ACL suffered by Garoppolo back in September put a hold on the revived rivalry since Los Angeles would have little trouble getting by San Francisco during both meetings in the regular season.
However, with the recent reports surrounding Garoppolo on pace to be ready for the start of training camp, the Rams realize the 49ers will most likely give them more problems this time around in 2019.
Football fans missed out big time last season when Goff and Garoppolo weren't able to square off against one another to make the battle in the NFC West a little more interesting.
But with this latest update surrounding Garoppolo, fans should be in for quite the treat in 2019, as there's nothing they would love more than to see what could be the next great quarterback rivalry in the NFL start off on a hot note.
To be the best, the Rams know they will have to challenge the best. And while the 49ers didn't seem like that much of a threat over the previous two seasons, even they know the circumstances will be much different if Garoppolo returns to the level from the end of the 2017 season.