Aaron Donald should love his chances to make NFL history in 2019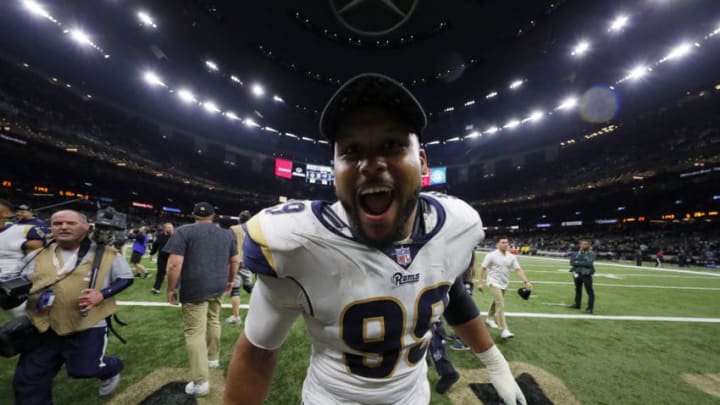 NEW ORLEANS, LOUISIANA - JANUARY 20: Aaron Donald #99 of the Los Angeles Rams celebrates after defeating the New Orleans Saints in the NFC Championship game at the Mercedes-Benz Superdome on January 20, 2019 in New Orleans, Louisiana. The Los Angeles Rams defeated the New Orleans Saints with a score of 26 to 23. (Photo by Kevin C. Cox/Getty Images) /
The Los Angeles Rams would love to see Aaron Donald make history in 2019 by winning Defensive Player of the Year for a third year in a row.
Unlike the previous two years, the Los Angeles Rams are beyond thrilled to see Aaron Donald participating in training camp instead of holding out for a new contract since both parties can focus on helping the team earn another trip to the Super Bowl.
Without question, Donald has worked his way into arguably becoming the top defensive player in the NFL over the last couple of years, and the numbers displayed each season will make a strong case to back it up.
Even last year when Donald missed all of training camp and preseason due to the holdout, the former first-round pick still found a way to finish with a career high 20.5 sacks.
What was even more impressive about this career season by Donald is how his first sack of the year didn't take place until the fourth game of the regular season, showing just how special of a player he truly was.
Heading into the 2019 season, expectations are rightfully high for Donald once again, and while it may be difficult to top his numbers from a year ago, anything seems possible with the Rams superstar.
And if Donald does in fact find a way to set new career highs in the sacks department or even a few other areas, chances are that when the time comes, taking home Defensive Player of the Year honors for a third year in a row seems very well possible.
If this does happen, Donald will be making his way into the NFL record books once again by becoming the first player in history to win the award three years in a row, as Gary Klein of The Los Angeles Times recently pointed out.
Dealing with this kind of pressure makes it seem like Donald will be at a disadvantage with opposing offenses focusing extra attention on him every snap, but when has that ever stopped Donald before?
Between his crazy work ethic and impressive numbers, there's a reason why most opponents hate facing Donald, because he's that great of a player.
Predicting that Donald will come through in making NFL history by winning Defensive Player of the Year once again in 2019 may sound crazy to even discuss at this point in the summer, but since it's Donald, it really isn't all that crazy one bit.