Long-awaited rivalry between Jared Goff, Jimmy Garoppolo finally happening Week 6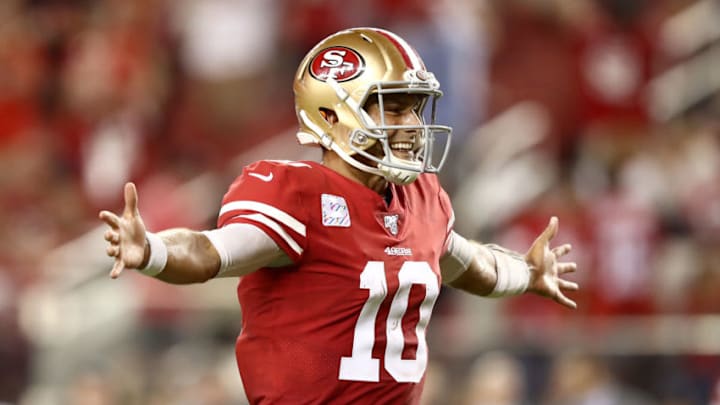 (Photo by Ezra Shaw/Getty Images) /
Jared Goff and Jimmy Garoppolo will finally face each other for the first time in a meaningful game on Sunday to take the NFC West rivalry to new levels.
Heading into last season, there was plenty of excitement surrounding the rivalry between the Los Angeles Rams and San Francisco 49ers hitting new levels, mainly because of Jimmy Garoppolo joining the NFC West.
While the Rams felt confident in their future with Jared Goff running the show on offense, the 49ers decided to take a risk on Garoppolo during the 2017 season by acquiring the quarterback in a trade with the New England Patriots.
Even though San Francisco failed to earn a spot in the playoffs that season, the fact that Garoppolo ended 2017 on one of the hottest notes possible by going 5-0 made it seem like the 49ers had finally found their quarterback of the future.
So with the Rams and 49ers all of a sudden having two talented quarterbacks to build their respect teams around, there was plenty of excitement over this becoming the top new rivalry for football fans to closely follow in the NFC West.
Since Garoppolo's first meeting with the Rams towards the end of 2017 came when Goff was resting in Week 17 for the playoffs, the rivalry wasn't expected to officially heat up until the following season when the two teams were considered Super Bowl contenders.
But unfortunately for San Francisco, Garoppolo would never get to face during the 2018 season after suffering a torn ACL in September, resulting in the Rams never seeing the 49ers quarterback last year.
Flash forward to the current 2019 season, and Garoppolo has San Francisco off to one of the hottest starts in the NFL by sitting at 4-0 heading into their weekend battle against Los Angeles.
Originally, the Rams were expected to be the team sitting in first place at this point in October, but the 49ers are in the driver's seat, and would love nothing more than to hand their rivals a third loss in a row to drop their record to 3-3.
Goff and Garoppolo technically won't be on the field at the same time during Sunday's contest, but all eyes will be on both quarterbacks to see who puts their respected team in the best position possible to earn a Week 6 victory.
The first meaningful game in this new quarterback rivalry took a bit longer than expected, but if all goes well on Sunday, Goff and Garoppolo will make sure it was well worth the wait.