LA Rams sports medicine working overtime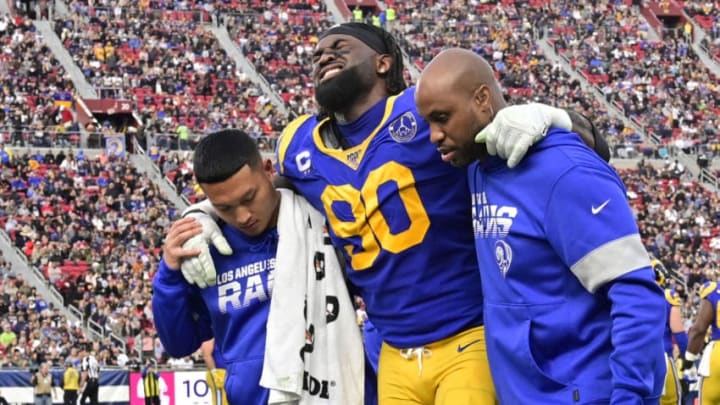 LOS ANGELES, CA - DECEMBER 29: Michael Brockers #90 of the Los Angeles Rams is helped off the field after an injury while playing the Arizona Cardinals in the second half at Los Angeles Memorial Coliseum on December 29, 2019 in Los Angeles, California. (Photo by John McCoy/Getty Images) /
After several seasons with few injuries, the LA Rams sports medicine department is working overtime
The LA Rams had been rather quiet on the injury front for a number of years. While there is always an injury or two to each NFL team, the Rams had found success in the NFL with an offensive line which remained in tact for the entire season. That was not the case in 2019. In fact, it was quite the opposite.  The Rams offensive line injuries included: starting center Brian Allen MCL injury, guard Joseph Noteboom ACL/MCL injury, wide receiver Jojo Natson pulled hamstring,   running back Darrell Henderson ankle, tackle Andrew Whitworth ankle, and center Austin Blythe ankle and shoulders.
On the defensive side of the ball, the list is even longer: linebacker Micah Kiser torn pectoral, defensive end Justin Lawler foot, linebacker John Caraway torn Achilles, strong safety John Johnson shoulder, linebacker Bryce Hager shoulder, inside linebacker Cory Littleton chest, defensive end Michael Brockers ankle, cornerback Troy Hill thumb, cornerback Jalen Ramsey knee, and free safety Eric Weddle torn meniscus knee.
On the mend
This offseason, Whitworth, Weddle, and Blythe had corrective surgeries.  While Whitworth and Blythe are free agents, Weddle's contract may need to be revisited this off-season to help the team remain under the NFL salary cap. Players who may not be medically cleared by the start of training camp include: Hill, Ramsey, and Weddle.  Free agents who may not be cleared by the time training camp begins includes Littleton, Brockers, and Whitworth.
"Pursuing perfection requires a willingness to be uncomfortable" – Ram's training room wall
That's a lot of rehabbing.  But Reggie Scott, Senior Director of sports medicine and performance, is up to the task. Referring to the training room as the "Barber Shop", Scott creates a center for recovery and performance enhancement for players.
The Sports Medicine group does this by focusing on the mind, body and spirit in the healing process. In Scott's own words: "believe it or not, the body is probably the easiest part to rehab".  It's not just physical therapy. It is designed to restore a player's trust in their own body once more.  And it works to eliminate the doubts which accompany each devastating body injury. Beyond that, sports medicine encompasses all body inputs. It covers hydration, nutrition, sleep, body fatigue, circulation, massage therapy and a host of disciplines which focus upon healing the athlete to the optimal level.
Millenial Magic
We've just covered the Data analytics, and now moved over to sports medicine. Why? Well the two are incredibly tightly related.  Sports medicine focuses upon and records body inputs. Data analytics focuses upon and records performance outputs. Combine the two and now players and coaches can measure how much sleep, water, nutrition, pre game warmups, and playing minutes a player needs to perform their best on game day Sunday.
Head coach Sean McVay benefits greatly from the efforts of the teams Sports Medicine department.  Now that he has hired two coordinators who are equally comfortable in working with sports medicine and big data, the team can make even more advances in that direction.  Sometimes improving the team is adopting the latest and greatest advances in related fields.  The Rams are ahead of that curve now.
Better than ever
Wide receiver Cooper Kupp, who fell to an ACL injury in 2018 and missed the Rams playoff run to Super Bowl 53, returned to health with a vengeance in 2019. Kupp led the receivers in catches (94), yards (1161), and touchdowns (10) this past season – all career bests.
Fans take it all for granted nowadays. But injuries had a history of ending an NFL player's career not so long ago. Now the team relies upon Scott and his staff:  Byron Cunningham, Tyler Williams, Mark Dydasco, Jacques McClendon, and Joey Blake to ensure that does not happen again.
It says quite a bit about the sports medicine department when the team suffers so many injuries and there is almost no concern about player's losing playing ability afterwards. A strong sports medicine department gives a strong advantage to an NFL team