20 LA Rams offseason player injury updates for 2020 season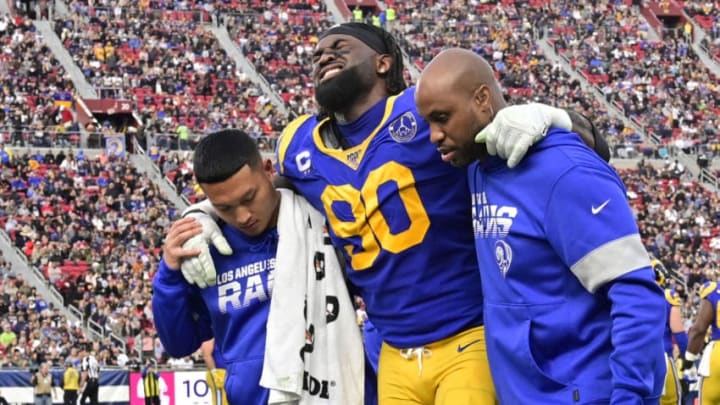 LOS ANGELES, CA - DECEMBER 29: Michael Brockers #90 of the Los Angeles Rams is helped off the field after an injury while playing the Arizona Cardinals in the second half at Los Angeles Memorial Coliseum on December 29, 2019 in Los Angeles, California. (Photo by John McCoy/Getty Images) /
LOS ANGELES, CA – DECEMBER 29: Cory Littleton #58 of the Los Angeles Rams recovers a fumble against the Arizona Cardinals in the second quarter at Los Angeles Memorial Coliseum on December 29, 2019 in Los Angeles, California. (Photo by John McCoy/Getty Images) /
Defensive front seven player injuries
Player                        Position                  Injury               Status
Cory Littleton         Inside linebacker    Chest               May not return for training camp
Micah Kiser             Linebacker               Pectoral          May not return for training camp
Justin Lawler          Defensive End        Foot                  May not return for training camp
Bryce Hager            Inside linebacker   Shoulder          May not return for training camp
Josh Carraway        Linebacker              Achilles            May not return for training camp
Michael Brockers  Defensive End       Ankle                 May not return for training camp
The defensive front seven injuries were a series of nagging tweaks and minor injuries.  The larger story here is the fact that ILB Cory Littleton, ILB Bryce Hager, and DE Michael Brockers are all unrestricted free agents in 2020.
LB Littleton suffered a chest bruise, officially diagnosed as a pulmonary contusion, which heals naturally with rest.  DE Brockers suffered a late season ankle injury.  However, the good news is that he will not need surgery, as it was merely a high-ankle sprain.  Ankle sprains are tough to heal during the regular season. But with rest and structured exercise, he will be better than ever.
LB Hager suffered a pinched nerve in his neck which forced him in and out of the lineup. The Rams ultimately placed him on injured reserve to allow his shoulder/neck to heal. LB Kiser suffered left pectoral damage which required surgery and effectively thwarted plans to start next to Littleton.  He should be back and on track in 2020 and should be ready to compete for a starting ILB role.
Defensive end Justin Lawler has the right size and agility to fill in at either defensive end or outside linebacker. While he suffered a foot injury in 2019 which required surgery, he has healed for nearly a year.  With so many defensive standouts leaving via free agency, Lawler will play a significant role for the team as he competes for playing time.