LA Rams 2020 NFL Scouting Combine Group 4 players list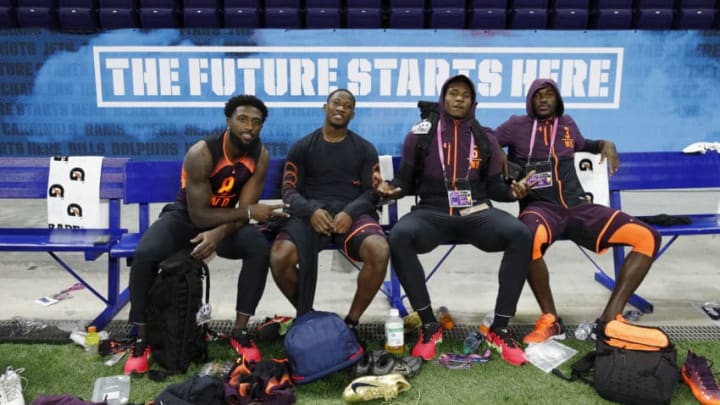 (Photo by Joe Robbins/Getty Images) /
The 2020 NFL Scouting Combine Group one list of invited players is now available, including some previously mocked to LA Rams
The LA Rams may have as many as 20 roster openings to fill this season, but that will soon change. A new draft class of 337 hopeful college players is one step close to their realizing their dreams of becoming NFL players in 2020. That is the list of prospects attending the 2020 NFL Scouting Combine. As you recall, the 2020 NFL Scouting Combine is a six-day event but staggered as a round-robin event for four groups. That extends the Combine out to nine days to complete processing fo the four groups. You can bet the LA Rams will be in attendance.
But of that number of attendees, only 256 players might hear their name called during the three-day 2020 NFL Draft. That's due to 32 teams limited to seven rounds, plus an annual limit of 32 additional Comp Picks awarded to NFL teams who suffer a net loss of free agents from the previous season. Just 256 options in the draft.
Still, that's only the NFL Draft. Upon the conclusion of the draft, all 32 NFL teams will scramble to sign the undrafted free agents. Historically, that is where the LA Rams have made some better than NFL signings.
So 337 players? That's a lot of players to keep track of, isn't it? Well, we've invested our time to help you decipher when your player will arrive and complete various stages of the event. To make the list of attendees easier to handle, we've taken the time to break out Group Four attendees. Thes are the defensive backs and they number just 51 players.
GROUP FOUR – Defensive backs – Arrive (Day 1) Wednesday, February 26th
Defensive backs (51)
» Damon Arnette, DB, Ohio State
» Grayland Arnold, DB, Baylor
» Trajan Bandy, DB, Miami
» Essang Bassey, DB, Wake Forest
» Julian Blackmon, DB, Utah
» Antoine Brooks Jr., DB, Maryland
» Myles Bryant, DB, Washington
» Terrell Burgess, DB, Utah
» Shyheim Carter, DB, Alabama
» Jeremy Chinn, DB, Southern Illinois
» Nevelle Clarke, DB, Central Florida
» Rodney Clemons, DB, SMU
» Brian Cole II, DB, Mississippi State
» Kamren Curl, DB, Arkansas
» Cameron Dantzler, DB, Mississippi State
» Ashtyn Davis, DB, California
» Javaris Davis, DB, Auburn
» Grant Delpit, DB, LSU
» Trevon Diggs, DB, Alabama
» Kyle Dugger, DB, Lenoir-Rhyne
» Jalen Elliott, DB, Notre Dame
» Jordan Fuller, DB, Ohio State
» Kristian Fulton, DB, LSU
» Alohi Gilman, DB, Notre Dame
» Jeff Gladney, DB, TCU
» A.J. Green, DB, Oklahoma State
» Javelin K. Guidry, DB, Utah
» Bryce Hall, DB, Virginia
» Harrison Hand, DB, Temple
» Jaylinn Hawkins, DB, California
» C.J. Henderson, DB, Florida
» Lavert Hill, DB, Michigan
» Darnay Holmes, DB, UCLA
» Noah Igbinoghene, DB, Auburn
» Dane Jackson, DB, Pittsburgh
» Lamar Jackson, DB, Nebraska
» Jaylon Johnson, DB, Utah
» Brandon Jones, DB, Texas
» BoPete Keyes, DB, Tulane
» Xavier McKinney, DB, Alabama
» Josh Metellus, DB, Michigan
» Chris Miller, DB, Baylor
» Tanner Muse, DB, Clemson
» Michael Ojemudia, DB, Iowa
» Jeff Okudah, DB, Ohio State
» James Pierre, DB, Florida Atlantic
» Troy Pride, DB, Notre Dame
» J.R. Reed, DB, Georgia
» John Reid, DB, Penn State
» Amik Robertson, DB, Louisiana Tech
» Reggie Robinson II, DB, Tulsa
» Stanford Samuels, DB, Florida State
» Josiah Scott, DB, Michigan State
» L'Jarius Sneed, DB, Louisiana Tech
» Geno Stone, DB, Iowa
» A.J. Terrell, DB, Clemson
» Daniel Thomas, DB, Auburn
» Stantley Thomas-Oliver, DB, Florida International
» Kindle Vildor, DB, Georgia Southern
» K'Von Wallace, DB, Clemson
» Antoine Winfield Jr., DB, Minnesota
Event Schedule
The final group of players, defensive backs, may not be a priority on the LA Rams shopping list, but the team would be wise to pay attention to this group.  After all, defensive backs will still be strong participants in the special team aspect of the roster, and as such will be of particular interest to new Special Teams Coordinator John Bunamego.  Even beyond that, the experience from 2019 of cascading injuries upon the Rams offensive line should encourage the team to add depth to the defensive backfield.
While we had expected the Rams to part ways with safety Eric Weddle, that creates a need for new depth at the safety position. Add new defensive coordinator Brandon Staley, and the Rams could aim at a safety/linebacker hybrid to assume the pass coverage skills of outgoing ILB Cory Littleton.
Just to refresh your memory, Group Four's schedule will look like this:
Wednesday, February 26th – Registration ~ Orientation ~ Interviews
Thursday, February 27th     – Measurements ~ Hospital pre-exam & X-rays ~ Interviews
Friday, February 28th           – Media ~ Medical Examinations ~ Position coach
interviews~ Psychological Testing
Saturday, February 29th      – NFLPA Meeting ~ Bench press ~ Interviews ~
Psychological Testing
Sunday, March 1st                 – Limited testing~ Interviews ~ On-field Workout
Monday, March 2nd              – Departure from Indianapolis
That's Group Four's list of attendees and schedule. We'll work out each NFL Scouting Combine group for you to help you track the round-robin series of events, as well as highlight specific news of interest to the LA Rams throughout the nine-day event.