CA "Stay Home" directive in effect, LA Rams SoFi Stadium construction halts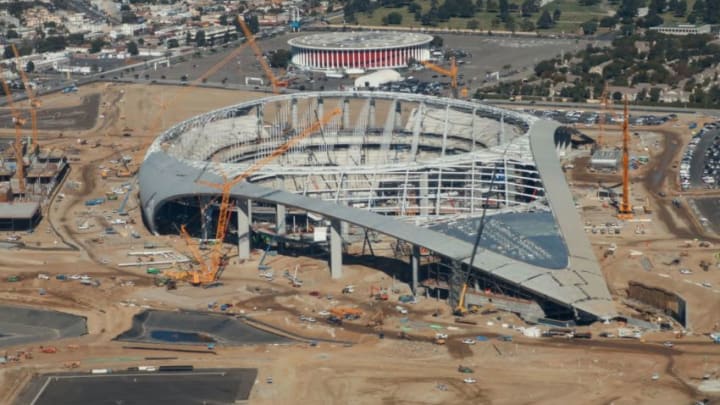 (Photo by Daniel SLIM / AFP) (Photo by DANIEL SLIM/AFP via Getty Images) /
As feared, more aggressive measures to stop the spread of COVID-19 now jeopardizes the LA Rams plans to open the 2020 NFL season at SoFi Stadium
The LA Rams do not have much luck right now. In the midst of what now looks like a major overhaul of defensive personnel and a battle to relieve the burden of huge contracts upon the team's 2020 salary cap allocation, the team now faces significant hurdles to the completion of SoFi Stadium.
As we had laid out in an article just four days ago, aggressive measures effected by the Governor of California, Gavin Newsom, would create delays or work stoppage on the Sofi Sports Complex currently underway.
Those measures just went into effect. In summary, only persons working in essential services may travel or commute.  For nearly everyone, those services include mail, purchasing groceries, seeking medical services, or purchasing gasoline.
It does not allow construction workers the opportunity to commute to or from a construction site. Please see the official state website for more details.
Of course, there are options to maintain progress on the project. One option would be to locate temporary housing at the job site and relocate the employee there with special authorization to do so.
Without construction workers, construction halts. And right now, businesses across the state of California are coming to a sudden halt to meet the new restriction.
SoFi Stadium is planned to be the home field for both the Los Angeles Rams and the Los Angeles Chargers for the 2020 NFL season. And the season opener, though at risk, will certainly depend upon the duration of the current stay-at-home directive.
Many aspects of life are impacted by the threat of COVID-19.  In the grand scheme of things, it's a relatively minor inconvenience.  But it is football, so we wanted to ensure you are aware of the current situation.
|
PER PFF UPDATE 11:30 p.m. ET: Per a source with knowledge of the situation, stadium construction officials will not be commenting on the situation until they better know how the order will affect them.
PER PFF UPDATE 10:00 AM ET: Source: SoFi Stadium construction can go on despite "stay at home" order. The Governor's office intends to change the language to exempt SoFi Construction from the ban.