3 LBs from free agency to help LA Rams towards 2020 NFL Playoffs run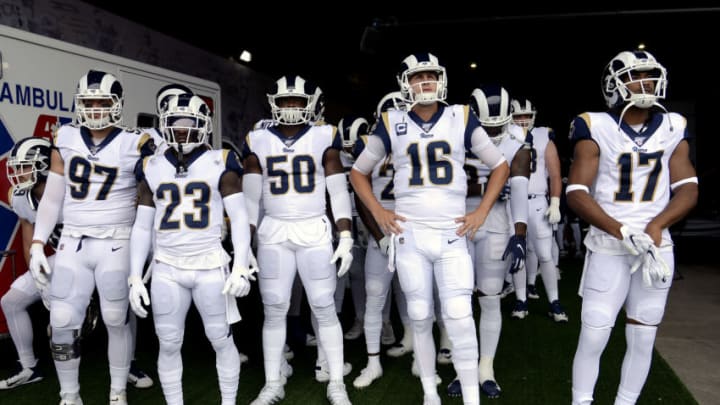 (Photo by Kevork Djansezian/Getty Images) /
(Photo by Justin K. Aller/Getty Images) /
ILB Taylor
Adarius Taylor is a veteran inside linebacker who is more "glue" than any "production" option for the LA Rams. A veteran of six NFL seasons, the 6-foot-0 230-pound inside linebacker has seen more action along the lines of special teams and rotational starter than a weekly starting linebacker. Still, considering the Rams shallow experience at the inside linebacker position at the moment, Taylors 16 games starting at inside linebacker is the equivalent of the remaining inside linebackers combined.
As a starter for the Tampa Bay Buccaneers, Taylor averaged six tackles per start.  He even notched a quarterback sack to his stats. That is certainly not the production that gets Taylor into discussions for a Pro Bowl nomination, but it should be enough to get him into discussions as a possible veteran signing for the LA Rams. Keep in mind that the LA Rams linebackers will be playing in the shadow of a good-to-great defensive line, let by All-Pro Aaron Donald.  The defensive line will be able to keep linebackers clean, and able to make plays.
Rotational talent
The value of adding a late veteran to the roster is to give players who need time to develop sufficient time to do exactly that – develop. Until now, the NFL has extended the virtual training program and pushed back the start for the onfield training program.  In this environment, a veteran like Adarius Taylor can be immensely valuable as he absorbs the starting role until a younger player earns the right to start over him.
Building a championship roster is not about filling a roster with Pro Bowlers, or even with the most players who can start on an NFL team. It's about complimenting the talents of one another, filling the roster with players who can start, but who are capable of a rotational role as well. Right now, the Rams would benefit by adding a veteran or two to the linebacker corps. And with the NFC West up for grabs, it could propel the Rams towards a 2020 playoffs run.