Pre-Camp LA Rams projected 2020 depth chart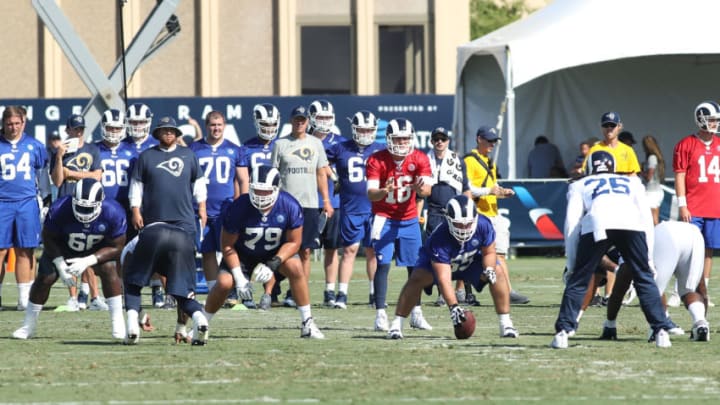 (Photo by Josh Lefkowitz/Getty Images) /
The LA Rams projected depth chart. Who starts and who backs up to start the 2020 NFL Season?
The LA Rams are now loaded with talent. Well, as loaded as they will be for the 2020 NFL season. Perhaps a tweak here or there remains, but who you find on the team now will likely be who will be on the team's roster come the opening snap. For now, the difficult task of ranking still remains for the 55 man roster.  Of the rest, which players are currently on the bubble? Who is fighting to keep their NFL football dream alive by endearing themselves to the coaching staff?  Who will stand out by their attitude, work ethic, versatility, intelligence, and production?
The LA Rams may be one of the easier NFL teams to project an early depth chart. After all, the team had so many injured players from 2019, that 2020 appears to be another go of nearly all starting players who returned healthy this season. Of course, a few starters will not be back. There are also some questions about player health at one or two starting positions. For now, we'll go with what we most likely know now.
OFFENSE
Quarterback
Starter: Jared Goff
Reserves: John Wolford, Bryce Perkins, Josh Love
Jared Goff enters his fifth season as the LA Rams starting quarterback, and by all appearances will no longer have the benefit of a more senior veteran in the quarterback room. His primary backup this season by default will be John Wolford, who arrived at the NFL in 2018 by signing on as an undrafted free agent with the New York Jets.
While the most heated competition will be between dual-threat QBs Josh Love and Bryce Perkins for the all-important third-string role, don't ignore the possibility that both Love and Perkins could supplant Wolford with excellent off-seasons.  The Rams need to be sure of the QB position.
Running back
Starter: Cam Akers
Reserves: Malcolm Brown, Darrell Henderson, Xavier Jones, James Gilbert, John Kelly
From the moment the LA Rams used their top 2020 NFL Draft pick (52) to add Cam Akers to the backfield, he became their feature running back. Sharing some of that load will be 2019 addition Darrell Henderson.  Veteran running back Malcolm Brown is vulnerable this year, in his final contract year, and facing a challenge by undrafted running back Xavier Jones, who could surprise with a solid showing to unseat Brown as the short-yardage back.
The wild card this season is Darell  Henderson. Some expect him to challenge for the primary running back role.  I expect he'll see more work, but primarily to challenge the perimeter of the defense.
Wide Receiver
Starters: Cooper Kupp, Robert Woods, Josh Reynolds
Reserves: Van Jefferson, Nsimba Webster, Greg Dortch, Trishton Jackson, Earnest Edwards, JJ Koski, Brandon Polk, Easop Winston
The Rams will likely go with Kupp, Woods, and add Josh Reynolds to fill last year's Brandon Cooks' role. Van Jefferson will fill the team's fourth wide receiver spot, and will rapidly increase in snap count.  Keep an eye on both Easop Winston and Brandon Polk, as if either has a good game they will have a shot at making the roster.
Tight End
Starters: Tyler Higbee, Gerald Everett
Reserves: Johnny Mundt, Brycen Hopkins, Kendall Blanton, Ethan Wolf
The Rams' use of two tight-end sets will give both Higbee and Everett opportunities to play the hero on offense this year.  While HC Sean McVay assured that he would find more ways to use Everett, he made similar assurances a year ago about Todd Gurley. Higbee will star, Everett will get some snaps.  But Hopkins will see some action too.
Offensive tackle
Starters: Andrew Whitworth, Rob Havenstein
Reserves: Bobby Evans, Chandler Brewer, Joe Noteboom, Jamil Demby
I don't like the fact that the Rams have rolled the dice once more on Whitworth and Havenstein. Not that I'm against either to start in 2020. I simply wish the Rams had upped the level of competition. Can Havenstein make a comeback? I simply don't know. I do know that Chandler Brewer needs to be ready to start at left tackle, and Bobby Evans will see action at right tackle. Will those be temporary assignments or permanent swaps?  At some point, the Rams will go younger at the bookends. That won't happen for the home opener.
Interior Offensive linemen
Starters: Austin Corbett, Austin Blythe, David Edwards
Reserves: Brian Allen, Coleman Shelton, Nate Trewyn, Jeremiah Kolone, Tremayne Anchrum, Cohl Cabral
I am so tempted to slot in either Coleman Shelton or Cohl Cabral as the starter at center. Even though Austin Blythe did an admirable job to close out the season, the Rams' efforts to draft a center for 2020 did not go unnoticed. I believe the team is satisfied by the play of youngsters Austin Corbett and David Edwards at the offensive guard positions.
DEFENSE
Defensive linemen
Starters: Aaron Donald, A'Shawn Robinson, Michael Brockerts
Reserves: Sebastian Joseph-Day, Greg Gaines, Morgan Fox, Marquise Copeland, Eric Banks, Mike Hoecht, Greg Reaves, Sam Renner
Arguably the strongest unit for the team in quite some time, this line is ideally suited to anchor the defense as designed by new defensive coordinator Brandon Staley.  With the team re-signing both Michael Brockers and Morgan Fox, it will be awfully tough for any rookie defensive lineman to crack the roster.  The weakest link right now is Gaines, as Robinson becomes the strongman NT originally projected for Gaines.  Of course, there is some buzz about both Renner and Hoecht, so both are worth watching
Outside linebackers
Starters: Leonard Floyd, Samson Ebukam
Reserves: Terrell Lewis, Natrez Patrick, Ogbonnia Okoronkwo, Jachai Polite, Jonah Williams
The Rams will likely start Floyd and Ebukam, with rookie Terrell Lewis getting plenty of defensive snaps. Watch for Ogbonnia Okoronkwo to catch on early as well. Of course, the outside linebacker role is incredibly competitive, and anyone can earn a spot on the roster this season.
Interior Linebackers
Starters: Michah Kiser, Troy Reeder
Reserves: Kenny Young, Traven Howard,  Clay Johnston, Daniel Bituli, Christian Rozeboom, Derrick Moncrief, Bryan London II
LA Rams starters at inside linebacker are so very much up in the air.  I went with Micah Kiser, 2019's projected starter, and Troy Reeder, who burst onto the scene in his first two starts for the Rams last year. Kenny Young was a gifted linebacker for the Baltimore Ravens but has yet to factor in with meaningful snaps for the Rams.  The team is ripe for a rookie to get a solid role.
Cornerbacks
Starters: Jalen Ramsey, Troy Hill
Reserves: Darious Williams, Donte Deayon, David Long Jr. Adonis Alexander, Levonta Taylor, Dayan Ghanwoloku, Tyrique McGee, Juju Hughs
With the Rams using Ramsey as a Joker-type defensive back, look for Troy Hill and Darious Williams to get significant snaps as well.  Of course, the Rams' defensive backs are loaded, but Levonta Taylor was projected as high as round three and signed on with the team after the draft.
Safeties
Starters: Taylor Rapp, John Johnston III
Reserves: jake Gervase, Terrell Burgess, Jordan Fuller, Nick Scott, JuJu Hughs
SPECIAL TEAMS:

Starters: K Lirim Hajrullahu,  Punter: Johnny Hekker LS: Jake McQuaide
Reserves: K Austin McGinnis, K Sam Sloman
Starters:  KR Greg Dortch PR Nsimba Webster
The Rams projected starting returners are based on predraft roster. In all honesty, the Rams could explode with entirely new return specialists this season, and even be better for it. We know that the punting duties are fine with All-Pro Johnny Hekker, and long snapper Jake McQuaide will continue hiking. I am going with Lirim Hajrullahu as the starting kicker for the Rams, as he is a phenomenal kicker.  But of course, anything can change after the training camp starts off.