LA Rams must focus on strong 2020 NFL finish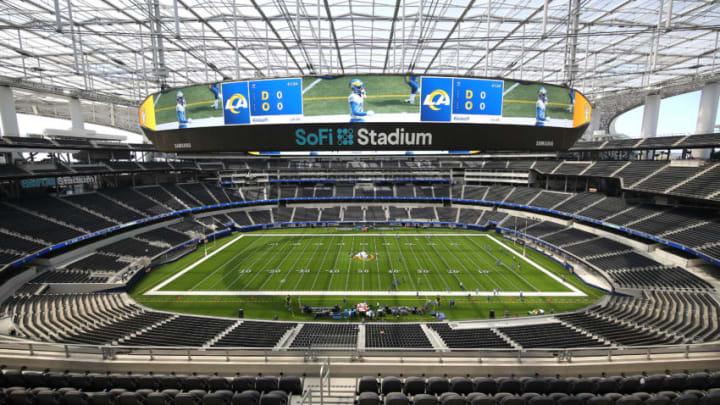 (Photo by Sean M. Haffey/Getty Images) /
The LA Rams can win the NFC West, or even a playoff spot, with a strong finish to the 2020 NFL season
The LA Rams are already experiencing their share of NFL injuries. It's been a tough road to get to the NFL season, and not all players have made it.  The Rams have already had to come to grips with the news that projected starting inside linebacker Travin Howard is now lost to them for the year.  The team has no certainty when nose tackle A'Shawn Robinson will return to health in order to play this year.  And then there is the unknown status of rookie edge rusher Terrell Lewis and his knee.
Of course, then there are a series of minor injuries. WR Cooper Kupp's soreness in his lower leg.  S Taylor Rapp with leg soreness. RB Darrell Henderson with a minor hamstring injury.  And the NFL season hasn't started yet. Will the Rams start out smoothly this year?  I doubt it.  This year will be marked with sporadic play, hot teams suddenly going icy cold. Elite plays followed by embarrassing moments.  2020 will be a wild ride.
A strong finish is a key to success
But for fans who get caught up in the moment, have faith. After a week eight by in 2019, the  LA Rams finished out their season at just 4-4.  After starting the season with three wins over good teams, the Rams played 6-7 the rest of the way.  A solid start only to end the year lukewarm. This year, the key to success is to end the year hot.
The LA Rams do not face a division rival until the sixth week of the season when the Rams travel to face the San Francisco 49ers.  That is it until their bye week. In the Rams final eight games, the Rams face Seattle twice, Arizona twice, San Francisco once, and face Tampa Bay, New York Jets, and New England once.
Here comes the cavalry
If the Rams can get Robinson and Lewis onto the field no later than the bye week, and avoid any serious injuries to other players, the team will have a solid chance at a playoff position and may make a push for the NFC West division crown.
While the Rams look for players to return to health this season, keep in mind that the team's ranks are filled with players who will improve dramatically as the season progresses.  Rookies Cam Akers and Van Jefferson will improve with each game. So too will the team's linebackers and young defensive backs. There is also the rules change which will allow the Rams to call-up a maximum of two practice squad players per game.
The Rams will get better this year.  With a bit of luck and a lot of effort, they will get hot at the end of the season, when it counts most.