Can LA Rams and Dodgers join the LA Lakers as 2020 Champions?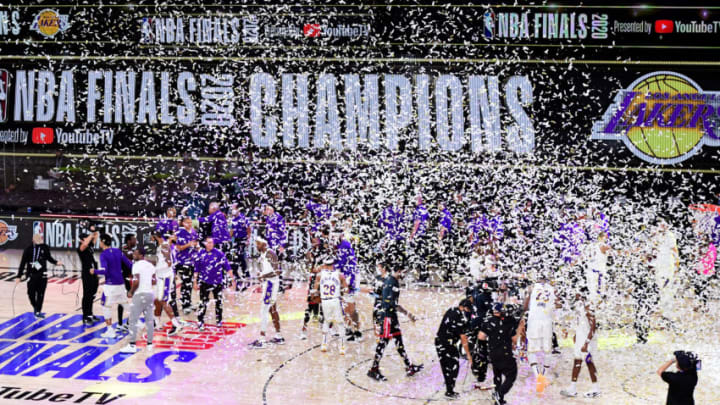 (Photo by Douglas P. DeFelice/Getty Images) /
Los Angeles has an NBA Champion in the LA Lakers. Can the LA Rams and Dodgers join the Lakers in the winner's circle this year?
The LA Rams play football in one of the most exciting places to play in the USA. The city of Los Angeles hosts plenty of professional sports. But for our purposes here, we will focus upon the LA Lakers, the LA Dodgers, and the LA Rams. Why? Well, these professional sports franchises have been associated with the Los Angeles community for many years.  Even as the Saint Louis Rams, there was always a tie back to Los Angeles.
Last night, the LA Lakers won the NBA Championship in one of the most unbelievable surreal seasons of its history.  In the year of losing Kobe Bryant to a tragic accident, his spirit of determination and competitiveness became the compass point for the Lakers. This is a time to celebrate the Lakers' victory, yes.
Trifecta?
But Los Angeles has an opportunity to enjoy something only one USA City has done before. In 1935, Detroit won the national championship in MLB, NFL, and the NHL.  Several cities have won two championships in the same year, including Los Angeles who won both the NBA and MLB championships in 1988. Now Los Angeles has won the NBA championship, they have an opportunity to do something accomplished just once before. So what are the odds?
Right now, the LA Dodgers are the favorite to win MLB's World Series. While that is no guarantee, it does suggest that Los Angeles has a solid chance to hoist two championships.
Two more LA?
The LA Rams are the most overlooked team this year.  Even at 4-1, they are 2500 -1 odds of winning the Super Bowl this year. But to be fair, only eight NFL teams have better odds, and the Rams are not the type of team to seek out the spotlight. The LA Rams have learned that ultimate victory is to remain underestimated for as long as possible.
Will the Dodgers and the Rams do their part to win three trophies for Los Angeles this year? That is certainly the goal for both teams. While this is the Lakers' moment to shine for a hard-fought and well-deserved victory celebration, it's not the time to let the champagne stock run low. The Dodgers and Rams are both competing hard for their opportunity to win it all. The Dodgers are on their way for the World Series, and the LA Rams are aiming for the Super Bowl.
This is Los Angeles. And we're not done yet.