LA Rams News: Rams emerge from bye week playing for NFC West lead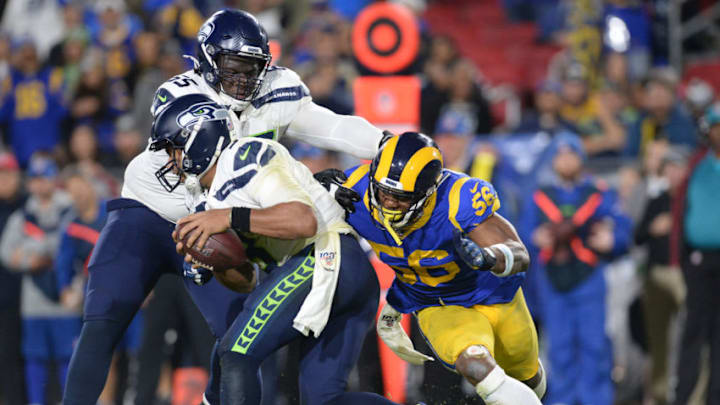 Mandatory Credit: Gary A. Vasquez-USA TODAY Sports /
LA Rams News: Team will be playing for the NFC West lead after their bye week
After dropping two of their last three games, the LA Rams limped into their week nine bye-week at risk of falling to nearly last place in the NFC West. At 5-3, the Rams had to watch the 6-1 Seattle Seahawks, the 5-2 Arizona Cardinals, and the 4-4 San Francisco 49ers play.
The San Francisco 49ers hosted the Green Bay Packers (6-1). The Seattle Seahawks traveled to face the Buffalo Bills (6-2). Finally, the Arizona Cardinals hosted the suddenly hot Miami Dolphins (4-3).  On paper, there was a chance that the Rams might have a good weekend, despite not playing. After all, the Packers wanted revenge against the 49ers who were riddled with injuries.  The Buffalo Bills had enough offense to score at will against the terrible Seahawks defense. But the Dolphins were starting Tua Tagovailoa, the rookie who was horrible in his debut against the LA Rams.
After the bye
The LA Rams are just 4-6-1 after their bye week but are 2-1 after the bye under head coach Sean McVay.  And the last time the Rams played the Seattle Seahawks after their bye week was 2005, a game that they lost in Seattle by a score of 31-16.  The Rams finished with a record of 6-10 that season. The Seahawks would go on to finish the season at 13-3 and eventually lose to the Pittsburgh Steelers.
The teams in 2020 are not similar. The Seahawks are winning games by outscoring their opponents in shoot-outs. The Rams, long an offensive juggernaut, has been leaning more and more upon a vastly improved defense.  The two teams are very familiar with one another, with the Rams holding an edge in the head-to-head competition in recent years. This year, the Seahawks have a very talented passing game, while the Rams have a rapidly improving pass defense.
The Rams lost and entered the bye week hoping to heal and regroup.  But after a weekend where all other NFC West teams stumbled, suddenly the Rams have a chance to play in a meaningful game.  A chance to take a part of the NFC West lead is certainly not something the Rams could have imagined a week ago. But in the same breath, it's not an opportunity that the team can let slip away, either.