LA Rams' SoFi Stadium stands as the crown jewel of the NFL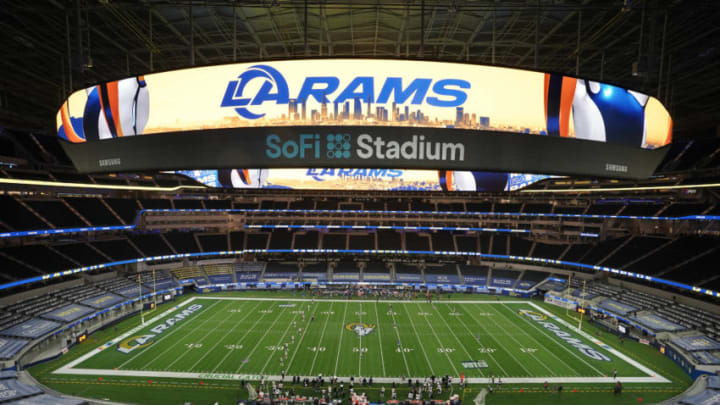 Mandatory Credit: Kirby Lee-USA TODAY Sports /
The LA Rams home field, Sofi Stadium, stands as the premier NFL football stadium for the next generation
The LA Rams will kickoff in SoFi Stadium this weekend. It's the ninth game of the 2020 NFL season, but only the fourth time for the LA Rams to play at home. While their 'roommates' at SoFi, the LA Chargers, have only tasted victory once at home, the LA Rams have won all three games played there. But the Rams and Chargers did not call Los Angeles home.
The Rams franchise was originally founded in 1937, in the city of Cleveland, Ohio.  It was not until 1946 that the Rams moved to the city of Los Angeles, where the team would call home until 1994.  When the St. Louis Cardinals relocated to Tempe Arizona, the city wanted an NFL football team to call their own. In 1995, their wishes were fulfilled with the arrival of the Rams. But the plans for a new stadium created a move once more, as the Rams franchise returned to Los Angeles for the 2016 season.
SoFi becomes home
The fourth move in the history of the franchise required more than a passing thought. It was based on the intentions of the NFL to locate a team in one of the largest football markets in the nation.  But the lure was the promise of a new state-of-the-art stadium.  That stadium began at an estimated cost of over $1 billion.  But that was the conceptual cost estimates.  SoFi became something far more spectacular than just a stadium.
And as the project's aspirations grew, so too did the cost.  The financial cost grew from $2.5 billion to a final construction cost of well over $6 billion. But wow, is it ever worth it. SoFi Stadium is more than a football field.  It is the location for both sports and entertainment for the Los Angeles area.  The site is the location-of-choice for sporting events, concerts, and other gatherings.
Greatest NFL spectator experience
While the stadium's grand opening has been delayed due to COVID-19 restrictions, the time-lapse of the construction of the area is truly breathtaking.
The goal was to create the greatest NFL spectator experience anywhere, and it appears that the design has certainly hit a bullseye.
Of course, the mystique over any home stadium depends on the success of the home team in that stadium. So far, the Rams have played and won three games at home. Should the team win against the Seattle Seahawks on November 15, 2020, the reputation of both the Rams and SoFi Stadium will improve.  Undefeated at home carries a bit of magic with it, the type of magic that helps to carry teams into and through the playoffs.
SoFi Stadium is a beautiful work of architectural art. But it becomes even more attractive when the scoreboard displays a final score for another Rams' victory.