LA Rams fourth injured player is K Kai Forbath, pour a MacGinnis?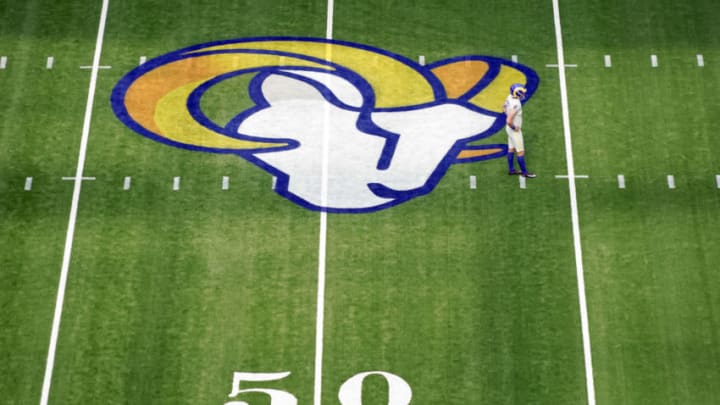 Mandatory Credit: Kirby Lee-USA TODAY Sports /
LA Rams injury update: 4 players were injured against the Seahawks, including K Kai Forbath. Does this mean it's time to pour a MacGinnis?
The LA Rams had a great team performance to defeat the NFC West-leading Seattle Seahawks. But this was a costly victory. The Rams had to play through four injuries. One appears to have been a minor one, as left guard David Edwards returned to the action in the following series.
But the Rams special teams continue to misfire at automatics. The Rams had every opportunity to score six points with their kicking game. But just as the Rams have so many times before, they failed to deliver, and one extra point missed. For the season, the Rams have made 10 of 14 attempted field goals in nine games. The team has kicked 22 of 26 extra points.  The only perfect game for the Rams kicking was a 17-9 win over the New York Giants in week four.
Another kicker change?
After today's injury, the LA Rams are not waiting for word on kicker Kai Forbath. He suffered an ankle injury in the victory over the Seattle Seahawks, and his status is unknown. Normally, the Rams would be in bad shape right now. But, they did sign kicker Austin MacGinnis to the practice squad.
The Rams have stumbled onto a better-than-expected situation with their kicker now. In any other season, the Rams would be forced into tryouts and getting a kicker onto the roster as quickly as possible.  Meanwhile, the Rams would normally be forced into deciding the status of Kai Forbath, whether or not to send him to the injured reserve list, to make room for the rental kicker on the roster.
MacGinnis on PS gives Forbath 3 weeks to heal
Practice squad rules have changed for 2020. Now, the Rams can call up Austin MacGinnis to the active squad twice to play on game day Sunday. On the third call up, the Rams can only return him to the practice squad if he clears waivers.  That means that the Rams can continue for three weeks before a definitive decision is required about Forbath's future.
It also allows the Rams the insurance to activate MacGinnis and get two weeks of tryouts from him in a game-time environment before the team must decide upon his future with the team as well. The decision to load a kicker on the practice squad was very wise indeed.  To be perfectly honest, I was rather surprised that the team chose to add MacGinnis to the practice squad. Clearly, the front office had a better plan B than I was able to conceive.
The Rams stand at 6-3. Now the team must prepare to face the Tampa Bay Buccaneers on the East Coast.  Go Rams!