If forecast holds, LA Rams face sweater weather in Lambeau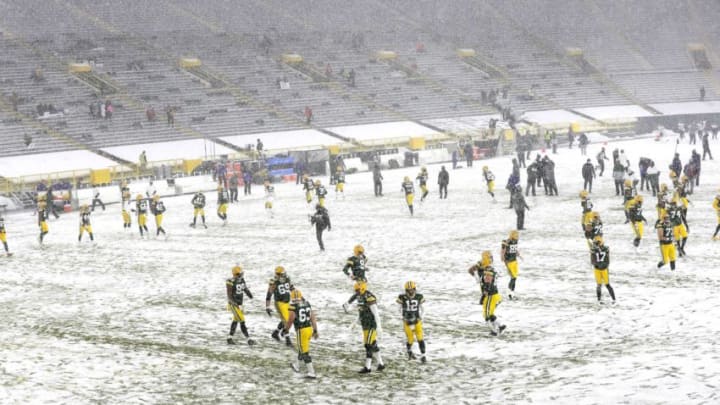 Mandatory Credit: Dan Powers/USA TODAY NETWORK-WisconsinApc Packvstitans 1227200015 /
Mandatory Credit: Dan Powers/USA TODAY NETWORK-WisconsinApc Packvstitans 1227200015 /
The cold weather has been a hot topic so far this week for the LA Rams. If the forecast for Lambeau Field holds, the Rams will miss sub-freezing temperatures
The LA Rams are a warm-weather team. But they will be playing on one of the coldest football fields in the nation when they travel to the frozen tundra of Lambeau Field in Green Bay, Wisconsin. Folks, it gets cold at Lambeau Field. Not just sub-freezing cold, but sub-zero cold. In fact, some of the coldest games in NFL history were played at Lambeau Field.
Legends of the game sprang from the 'Ice Bowl' during the 1967 NFL Championship Game where the Green Bay Packers hosted the Dallas Cowboys with a game-time temperature of -13 degrees Fahrenheit and a balmy wind chill temperature of -36 degrees. The halftime show was canceled when 11 members of the performing band were rushed to the hospital to treat their extremities for frostbite.
No Ice Bowl awaits the Rams
Thankfully, no Ice Bowl conditions await the Rams this Saturday at Green Bay Wisconsin. In fact, the latest and greatest weather forecast from Weather Underground.com expects Green Bay to be under cloudy skies at game time of 3:35 pm CT with a temperature just above the freezing make at 33 degrees and winds out of the NorthWest at 13 miles per hour.
By halftime, the winds will diminish from 5-7 mph out of the NW under mostly cloudy skies, and temperatures at the freezing mark of 32 degrees. By the end of the game, the clouds and wind will persist, but the evening temperature will fall to around 30 degrees.  While these are not ideal conditions to play in for a warm-weather team like the Rams, the worst that the team will face is some minor discomfort due to chilly conditions.