LA Rams will play 17th game in Baltimore against the Ravens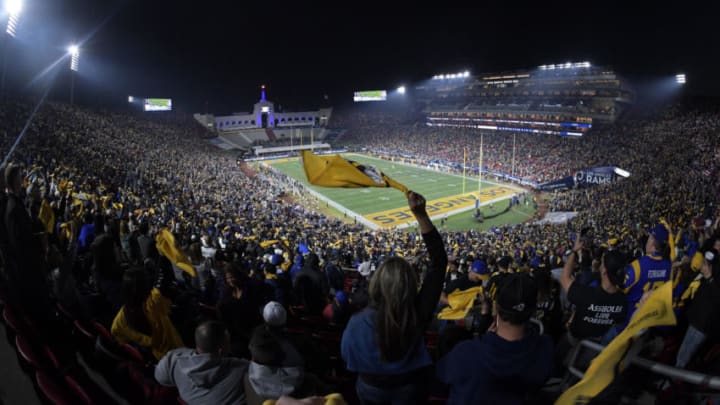 Mandatory Credit: Kirby Lee-USA TODAY Sports /
Mandatory Credit: Tommy Gilligan-USA TODAY Sports /
What to expect in the 2021 meeting
Both the LA Rams and Baltimore Ravens have a history of competing in the NFL playoffs and will expect to do so this year as well. Often a game of this nature, the NFC vs. AFC team, has less effect on NFL Playoff seeding due to tiebreaker rules.  But it is a valuable litmus test as to which team is in better playoff readiness.
A game involving a West Coast team traveling to the East Coast generally favors the home team. But I'm not so sure about this one. The Rams have to take this game extremely seriously. After all, the Ravens came to Los Angeles in 2019 and obliterated a banged-up LA Rams team in 2019 by the score of 45-6.
We know that the Rams have invested heavily to get Stafford, and are all about sending a message to the NFL. Waltzing into Baltimore and kicking the Ravens' arse with a similar 45-6 score would definitely force the entire NFL to sit up and take notice.
To do that, the Rams will need time to pull together both the offense and defense to have the new pieces and schemes purring nicely. Unlike other years, the LA Rams are significantly different and will need time to synch up players, units, and the team as a whole.
What of the other NFC West teams? The Seattle Seahawks will face the Pittsburgh Steelers, the Arizona Cardinals face the much improved Cleveland Browns, and the San Francisco 49ers face the only patsy of the AFC North, the Cincinnati Bengals. All will be games on the road. Based on the distance and the team faced, the LA Rams have the toughest 17th game of the bunch.  But winning it all means beating the best along the way.