LA Rams want to get better, now how do they do it?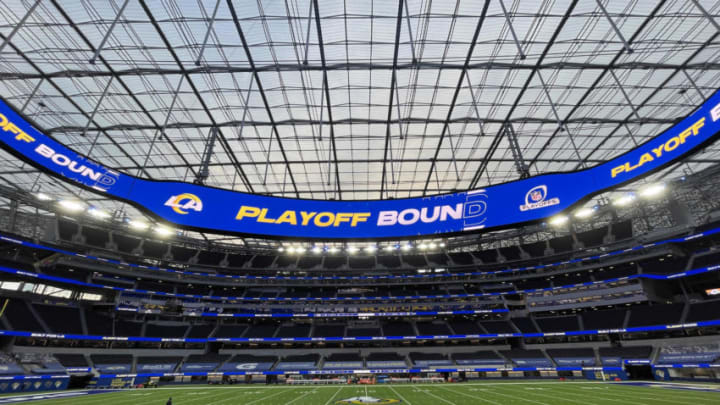 Mandatory Credit: Kirby Lee-USA TODAY Sports /
How do the LA Rams get to Super Bowl LVI this year? It's easier to map out a course with a compass than a road map. How so? Well, if you have ever lived in Alaska, you know that more often than not, no roads will take you in the direction that you want to go. So you have to either rise above it all and fly to your destination or build the route to get there. Or both.
You can't get there by replicating what you did in 2020.
So the loss of defensive players was bound to happen. Players, like coaches, become pot-bound. Oftentimes, even when a player has mastered a rotational role, they want more. They seek a starting role. After a player earns a starting role, they want a feature role. It's just life because life is growth.
And so, each year, the LA Rams must be able to prune and graft new players to the trunk of the team. When those players outgrow the role available to them on this roster, the rams must allow the free agency process to transplant them elsewhere, and rely upon their own talent development process to provide new players to graft into offensive and defensive roles.
NFL defenses are not easy to sustain
So the Rams defense, even if the team had Brandon Staley at the helm once more, would be hard-pressed to repeat their defensive accomplishments this year. Since 2004, the NFL's best defenses (in yards allowed) have been as follows:
2004- Pittsburgh Steelers (1st), Buffalo Bills (2nd)
2005- Tampa Bay Buccaneers (1st), Chicago Bears (2nd)
2006- Baltimore Ravens (1st), Jacksonville Jaguars (2nd)
2007- Pittsburgh Steelers (1st), Tampa Bay Buccaneers (2nd)
2008- Pittsburgh Steelers (1st), Baltimore Ravens (2nd)
2009- New York Jets (1st), Green Bay Packers (2nd)
2010- San Diego Chargers (1st), Pittsburgh Steelers (2nd)
2011- Pittsburgh Steelers (1st), Houston Texans (2nd)
2012- Pittsburgh Steelers (1st), Denver Broncos (2nd)
2013- Seattle Seahawks (1st), Carolina Panthers (2nd)
2014- Seattle Seahawks (1st), Detroit Lions (2nd)
2015- Denver Broncos (1st), Seattle Seahawks (2nd)
2016- Houston Texans (1st), Arizona Cardinals (2nd)
2017- Minnesota Vikings (1st), Jacksonville Jaguars (2nd)
2018- Baltimore Ravens (1st), Buffalo Bills (2nd)
2019 – New England Patriots (1st), San Francisco 49ers (2nd)
2020 – LA Rams (1st), Washington Football Teams (2nd)
There are three NFL teams that have dominated the league in terms of defensive excellence over this time period.  They are the Pittsburgh Steelers (1st – five times), the Baltimore Ravens (1st – two times), and the Seattle Seahawks (1st -two times).
The offense gives more bang for the buck in 2021
If you believe that the LA Rams can return to dominate the NFL on defense once more, you may be setting yourself up for a huge disappointment. Brandon Staley's defense was based upon fundamentals from Broncos head coach Vic Fangio. That defensive scheme was already in use by the Denver Broncos and the Chicago Bears. Now, that philosophy will influence the defenses of the Green Bay Packers (DC Joe Barry), the Detroit Lions (Secondary coach Aubrey Pleasant), and the Los Angeles Chargers (HC Brandon Staley) as well.
The Rams wisely backed investing in restoring their offensive ability to score points, rather than attempt to sustain the defense's ability to deny opponents from doing so. That's because it will be far easier to improve the offensive output to return to a Top-Five scorer in the NFL than to prevent the inevitable backslide on defense from the Number-One defense.
To crack the NFL's Top-Five offenses, the Rams will need to score an estimated 110 more points over 16 games, which averages out to 16 more touchdowns and extra points over the course of an NFL season.
Show me the touchdowns
Conceivably, that number can be broken down by figuring eight by rushing and eight through the air.  Stafford passed for 26 TDs to Goffs 20, and that's a good place to begin. Stafford threw 528 passes to Goff's 552 passes.  To avoid the tedious math of distribution and scoring assignment let's run with 28 passing touchdowns for the Rams for 2021.   Now, where can the Rams get 27 rushing touchdowns?
Well, believe it or not, if running back Cam Akers delivers as expected, he should be crossing the plane ten times or better in 2021. Combined that production with that of Darell Henderson places the Rams at 15 rushing touchdowns, and we're just getting started. In 2020, the Rams had seven rushing touchdowns by non-running backs. So let's put that same number into the mix. We're up to 22 touchdowns and need five more. With the Rams looking for RB Xavier Jones to fill the vacated spot of Malcolm Brown, Jones should be prepared to put up five touchdowns himself.
The scores are there if the Rams truly can blow the lid off defenses early in the season. That will take more than one wide receiver running deep routes.  In 2014, the Washington Football team was the 26th scoring offense in the NFL. A year later, it was the 10th-ranked scoring offense in the NFL. The difference? Washington placed the ball into then quarterback Kirk Cousins's hands, managed 30 touchdowns through the air by a heavy dose of tight end Jordan Reed, and rounded out the scoring with the combination of Pierre Garcon and DeSean Jackson.
We'll talk more about how that transition will look on the Rams offense. Suffice it to say that the Rams offense will be getting a facelift. And in the process, they will rise above trying to hack small improvements inch by inch. The Rams will refocus on the passing game, which will shake things up in the NFL.