LA Rams' rafters: Why are those jersey numbers retired?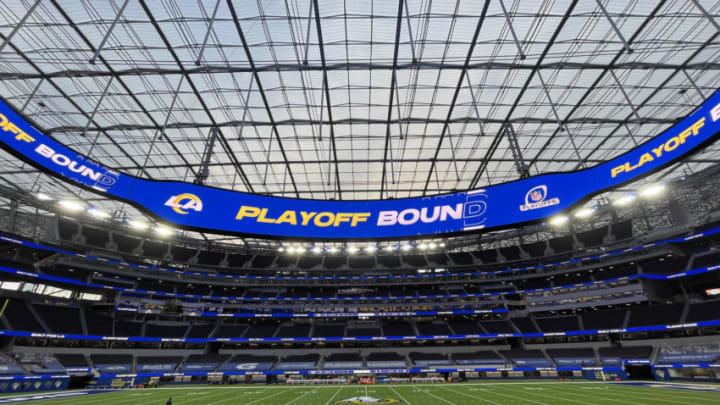 Mandatory Credit: Kirby Lee-USA TODAY Sports /
Mandatory Credit: Trevor Hughes Sturgis Day 4 August 2018 2178 Jpg /
Rams Rushmore – Bob Waterfield #7
And so, listed in numerical order of their retired jersey numbers, here are the eight members of the LA Rams' Mount Rushmore.
Rams Jersey number 7 has the distinction of being the very first Ram to have his number retired in 1952 and that belongs to QB Bob Waterfield, who was drafted by the Cleveland Rams in the fifth round with the 42nd pick of the 1944 NFL Draft.
He played quarterback for the UCLA Bruins and the Cleveland/Los Angeles Rams from 1945 to 1952 and was inducted into the Pro Football Hall of Fame in 1965.
Waterfield literally burst onto the scene in his very first season with the team, when as a rookie, he led the 1945 Rams team to the NFL championship with a 9–1 record. Waterfield led the NFL with 1,627 yards of total offense, 14 touchdown passes, and an average of 9.4 yards per attempt.
(Just looking at those numbers, one cannot help but marvel at how much the game has changed since 1945!)
He was also a two-way player back in the day and while playing as a defensive back, intercepted 6 passes in that same year. In his first four NFL seasons, Waterfield intercepted 20 passes. In fact, he may be the only NFL quarterback to throw fewer interceptions (11) than he made (20) over the span of his career.
He led the Rams to NFL championships in 1945 and 1951 and was selected as the NFL's Most Valuable Player in 1945. He was the league's MVP in his rookie year. Even more, he was the first-team All-Pro quarterback in 1945, 1946, and 1949. And he did more, much more than just lead the team.
He was one of the best punters, and place-kickers in the league, setting NFL career place-kicking records with 315 extra points and 60 field goals, as well as a single-season record with 54 extra points in 1950, and a single-game record with five field goals in a game.
Beat you with his arm and his foot.
In the 1945 NFL Championship Game, Waterfield single-handedly led the Rams to a 15–14 victory over Sammy Baugh's Washington Redskins in frigid below-zero weather in Cleveland.  Waterfield accounted for both Cleveland touchdowns on that day, lobbing aerial TD bombs of 37 and 44 yards. His booming punts kept the Redskins pinned deep in their own territory the entire game.
Just before that game, Rams owner Dan Reeves announced that the team had just inked Waterfield to a three-year contract paying him at the unheard-of astounding rate of $20,000 per year, which made him the highest-paid player in pro football.  NFL players make $30k more than that for playing one game! (NFL veteran minimum salary is $920k divided by 17 games = $54k)
After the season, Waterfield received the  NFL's Most Valuable Player award, out-distancing the Philadelphia Eagles' halfback Steve Van Buren by a wide margin.