LA Rams' rafters: Why are those jersey numbers retired?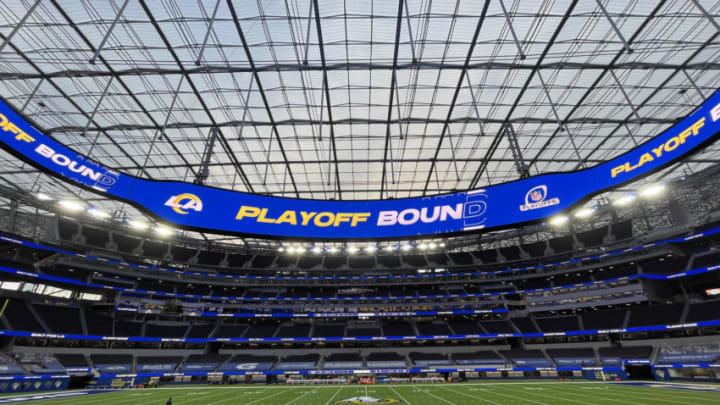 Mandatory Credit: Kirby Lee-USA TODAY Sports /
(Photo by David Madison/Getty Images) /
RB Faulk
The next LA Rams retired jersey, number 28, belongs to running back Marshall Faulk, who was originally drafted by the Indianapolis Colts as the second player overall in the 1994 NFL Draft. As a rookie, his talent was instantly recognizable – a trait common to all eight Rams' retired jerseys – immediate impact players. Faulk burst out of the starting gate rushing for 143 yards and scoring three touchdowns against the Houston Oilers. He finished his first season with 1,282 rushing yards and an AFC-leading 11 TDs. He also caught 52 passes for 522 yards and one touchdown. He was named NFL Rookie of the Year.
He was then traded by the Colts to the St. Louis Rams in 1999 in exchange for a second and fifth-round draft pick. In hindsight, that has to be recorded as one of the worst football trades in history, or certainly one of the most lopsided.
That's because Faulk helped his new team hoist the Lombardi in his very first season in St. Louis. That year he also became only the second player in NFL history to eclipse the 1,000-yard mark in both rushing and receiving. He set a then-record for yards from scrimmage with 2,429 yards. He was named the NFL's Offensive Player of the Year, an honor he would go on to earn for the next three consecutive seasons.
He was voted to seven Pro Bowls and became the first player in NFL history to gain 2,000 yards from scrimmage in four straight seasons from 1998-2001. He retired as the NFL's ninth-ranked rusher of all-time with 12,279 yards and 100 touchdowns. He also snagged 767 career receptions, which ranked 16th all-time, for 6,875 yards and 36 touchdowns. His 19,154 yards from scrimmage was sixth all-time. Faulk rushed for 100 or more yards in 38 games and had three games in which he went over the 200-yard mark. He also recorded eight 100-yard receiving games in his 12-year, 176-game career.
He personified the dual-threat running back who could beat you with his legs as well as his hands.
He exhibited sustained excellence, indeed.
He was inducted into the NFL Hall of Fame in 2011 and he had this to say during his enshrinement speech:
""I guess you could call me a football junky…I love it. I am a student of the game. I try to see what is new, what a team is trying to do to stop an offense. I pick up new things. I never get tired of it. I'd play for nothing; I did for years." – Marshall Faulk NFL Hall of Fame acceptance speech"
And he did it for years. 12 years to be exact. Five years for the Indianapolis Colts, and seven years for the LA Rams. 100 touchdowns, 12,279 yards in his NFL career. Just, wow.