LA Rams' rafters: Why are those jersey numbers retired?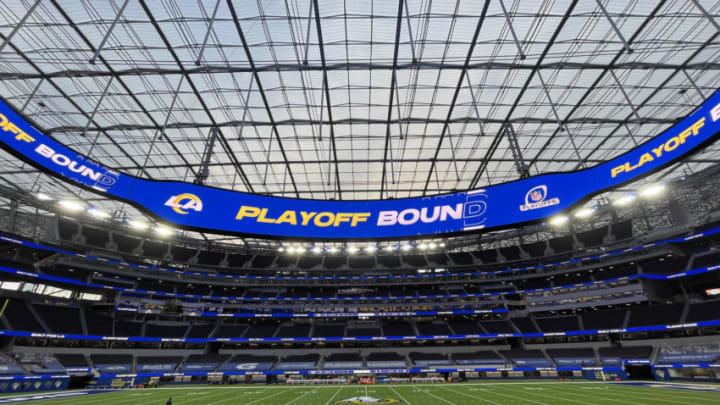 Mandatory Credit: Kirby Lee-USA TODAY Sports /
Mandatory Credit: Kirby Lee-USA TODAY Sports /
Rams rookie rusher extraordinaire
Dickerson rushed for an NFL record of 2,105 yards in 1984 and gained 1,800 or more rushing yards three of his first four seasons in the league. He retired as the second all-time leading rusher with 13,259 yards on 2,996 carries. He went on to led the league in rushing three times with the Rams, and once with the Indianapolis Colts
During his time in Los Angeles, Dickerson ran a total of 8,533 yards and scored 62 rushing touchdowns. In 1984 and 1986, he led the league in rushing yardage. Additionally, he made three Pro Bowl appearances.
In 1992, Dickerson was traded to the then-Los Angeles Raiders for one season. In 16 games, he ran for 729 yards and scored two touchdowns. The following season, he was traded to the Atlanta Falcons, where he played for four games before being traded to Green Bay and retired from football shortly thereafter, without ever making it to the Super Bowl.
In each of his first four years with the Rams, Dickerson helped deliver his team to the playoffs. In 1986, Dickerson set a new record for rushing yardage in a playoff game by gaining 248 yards against the Dallas Cowboys.
Following a salary dispute, Dickerson was traded to the Indianapolis Colts in 1987. It was one of the biggest deals in NFL history. The trade involved three teams and 10 players, as well as draft-choice swapping. The trade proved good for the Colts, and in 1988, Dickerson earned his fourth rushing title, leading the league with 1,659 yards.
Dickerson cemented himself as one of the greatest running backs in the NFL. His 13,259 yards rushing rank him third on the all-time rushing list, behind Detroit's Barry Sanders and Chicago's Walter Payton. With 96 touchdowns, Dickerson ranks 13th on the all-time touchdown list. He was inducted into the NFL Hall of Fame in 1999.
Off the field, Dickerson involves himself with many youth programs. In 1984, he formed Dickerson's Rangers, a Los Angeles-area youth club for boys and girls aimed at providing an alternative to streets, gangs, and drugs. In addition to his fund-raising, Dickerson has worked as a sports analyst. He joined the ABC Monday Night Football broadcasting team in 2000 and stays active in charitable work for many organizations and fund-raising events.