Will LA Rams Tutu Atwell punt PR/KR Nsimba Webster to the bench?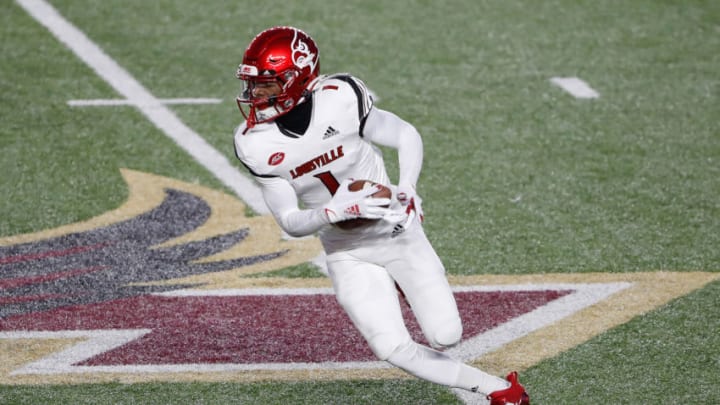 Mandatory Credit: Winslow Townson-USA TODAY Sports /
From the moment that the LA Rams drafted a Louisville speedster at wide receiver named Tutu Atwell with the 57th overall pick of the 2021 NFL Draft, there has been an abundant number of questions over how the LA Rams might deploy Atwell.  You see, he is a bit on the smallish side for a heavy dose of special teams and offensive use. Will he be a special teams player? Will he be used exclusively in offensive sub-packages?
Whether you place your faith in his 2021 NFL Draft profile description of 5-foot-9 and 155-pounds, or his LA Rams' team profile description where he is listed at 5-foot-9 and 165-pounds, everyone can agree on one thing: Durability will be a question mark for the young man.
Durability is a hefty and important concern for a second-round pick for any NFL team, and when it happens to the LA Rams with their first time selecting in any NFL Draft, it should be officially recognized and addressed. Well, without the official part, it seems like a role for the fleet-footed football weapon has been carved out for Tutu Atwell. He will be a punt returner for the LA Rams in 2021.
Now the question is, what will the team do with 2020's punt returner, Nsimba Webster?
To be honest, Webster should have recognized the signs from the moment that the team hired new special teams' coordinator, Joe DeCamillis.  The next set of clues happened throughout the 2021 NFL Draft when the Rams drafted hyper-athletic players who all seemed to be standouts in special team roles in college football.
Now, at least one such player has claimed that he will return punts for the Rams this year. He may not be the last rookie to make some version of an announcement about an early role on special teams units. In the meantime, LA Rams veterans who played primarily in a special teams' role in 2020 should be prepared to up their play significantly in 2021.