LA Rams holding joint practice schedule exhibits confidence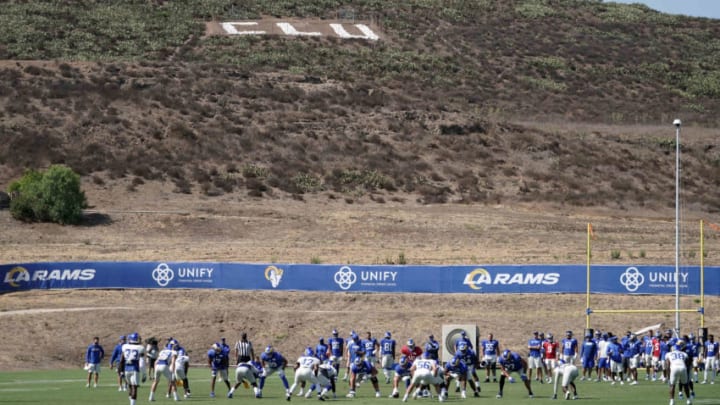 Mandatory Credit: Kirby Lee-USA TODAY Sports /
The LA Rams are not the type of team to shy away from taking on risks, gambles, or tough opponents. It's a no-fear attitude that keeps this team in the running for great things each year. And it's that no-fear culture that incubates the winning ways of the Rams. Big moments happen all the time in an NFL player's career. Having the confidence to seize those big moments is the difference.
That only happens if the team infuses confidence into players. Sounds simple enough, but how does an NFL team go about doing so?  Well, for starters, it takes a team willing to go outside of the box, and shake things up a bit. Training camp and offseason work can quickly fall into a rut because even as the team trains and practices, there is only so much that a team can do to simulate real NFL games against themselves.
So the LA Rams have made it a point to practice against other NFL teams whenever possible. That was not an option for the team in 2020, but the Rams are making up for it by working out joint training camp practices with two NFL teams in 2021. Per The Athletic's Jourdan Rodrique, the Rams will be conducting joint training camp practices with both the Las Vegas Raiders and the Dallas Cowboys.
Why joint practices? Let me count the ways
In fact, LA Rams head coach Sean McVay confirmed it.
Why would NFL teams agree to share joint practice sessions? There are actually several reasons why teams are happy to do so. First of all, it gives coaches a chance to evaluate their own talent against a larger population of opponents on the line of scrimmage and in the secondary. That introduces new plays, moves, and skillsets to the players that they would not experience otherwise.
Secondly, it allows coaches to cross-pollinate their training techniques. It gives the Rams coaching staff a chance to compare notes with the coaches of other teams, gauge their effectiveness, and adjust their own techniques as necessary going forward.
Lastly, it gives the Rams organization the opportunity to do an entire spectrum of scouting, data analytics, and evaluation/assessments on the players of the other teams. At some point, all NFL teams will pare down their rosters to 53-man maximums. The LA Rams have no hesitation to sign up players off that waiver wire. If the Cowboys or Raiders cut a promising player, the Rams will be ready to sign them up.
Combining practices in the midst of training camp offers plenty of benefits. But it takes a confident bunch to be willing to take the chance at those rewards.