Where will LA Rams ex-RB and current FA Todd Gurley land?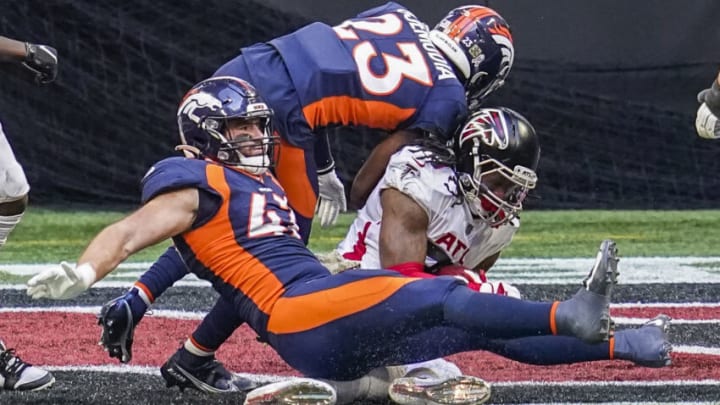 Mandatory Credit: Dale Zanine-USA TODAY Sports /
(Photo by Jayne Kamin-Oncea/Getty Images) /
Gone, Gurley
In the not-so-distant past, Gurley was considered not just among, but THE  best running back in the entire NFL, being named first-team All-Pro in consecutive seasons from 2017 to 2018, rushing for 2,556 yards and 30 touchdowns in just those two years.  But just one year later, he was gone from Los Angeles like yesterday's trash. What happened?
It was a common theme for the LA Rams, overpayment of offensive players leading up to or after their Super Bowl appearance, loading up with a ridiculous amount of guaranteed pay, watching in horror as the now-highly paid players' productivity plummet, and being forced to make tough decisions to float the ship due to the weight of bad contracts. With no NFL team seeking to take on Gurley's huge salary, the Rams had to waive him.
He spent last season with the Atlanta Falcons where he performed yeoman's duty as their primary workhorse back.  He struggled to make much of a difference, however,  totaling just 678 yards on a mediocre 3.5 yards per carry. But he did cross the plane of the end zone an impressive eight times.
Perhaps it is true that his best days are behind him, but that doesn't mean he's unemployable.  Dependable red-zone backs don't grow on trees. In my mind, there's at least a demand for 32 such players, because there are 32 NFL teams. Is Gurley one of the top 32 RB's in the league? Absolutely. On scoring ability alone.
In May, a second NFL team – the Detroit Lions – brought Gurley in for a visit. That team has talked openly about how he'd fit their needs.  The Lions saw some promising upside and believed that he would be a nice addition alongside their existing running back tandem of D'Andrew Swift and Jamaal Williams.
Just like his visit to Bawlamer, however, he left the Motor City without signing a contract. Detroit said something about wanting him "on their terms.  Read: cheap. Or perhaps more along the lines that Gurley still believes his role in the NFL to be the lead running back, and won't sign with anyone without that guarantee and commiserate pay.