Where will LA Rams ex-RB and current FA Todd Gurley land?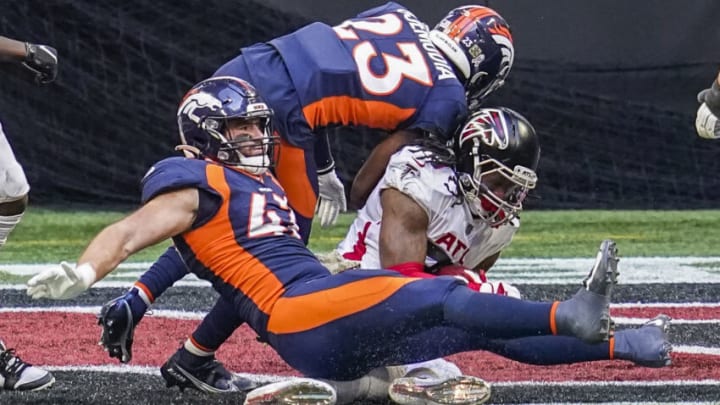 Mandatory Credit: Dale Zanine-USA TODAY Sports /
(Photo by John McCoy/Getty Images) /
An NFL role if he wants it
Seems to me that a team whose old school head coach Dan Campbell wants his team to "eat kneecaps" this season would be well-served to make a smash-mouth running attack its base identity. If there is such a thing as a strength on this Lions team, it's the offensive line. The Lions would love to have a familiar face to help shoulder the offensive burden with Jared Goff. But what role will Gurley accept? And at what price?
Gurley would find familiar faces and ties in Detroit. His path crossed with new Lions GM Brad Holmes because Holmes was director of college scouting for the Rams when Gurley was drafted 10th overall in 2015. And new Lions quarterback Jared Goff is certainly simpatico to Gurley due to their time together in the LA Rams' quarterback.
That QB-to-RB handoff would be smooth as silk, like muscle memory. Goff & Gurley wouldn't have to waste too much practice time getting that play down-pat. And imagine the comfort zone for Jared Goff, realizing that his former teammate is there once more.
And while this team didn't bring Gurley in for a visit, I could envision it happening because I foresee a need on their roster for a back with his talents – the other team that calls So-Fi home, that other team that plays in LA, the LA Chargers.
Their feature running back Austin Ekeler may be one of the most underrated ball carriers in the league, but he isn't a running back who you can count on running between the tackles. He's just not cut out to tote the rock for 20-plus carries a game.
Insert Gurley.  The Chargers have a good offensive line. That could be the very best thing to happen for an older player like Gurley with a bit of tread missing on his tires, because where he played last year in Atlanta, well, they had a poor offensive line. (Porous, actually, too.)
I could easily imagine Gurley being signed before training camp and amp up the pressure on Justin Jackson to be the Chargers' alternative running back. Competition is supposed to bring out the best in all of us, isn't it? (Penalty flag for "Coach-Speak"?).
But with Justin Herbert as your QB and Todd Gurley in your backfield, that could pose a lethal red-zone threat.