LA Rams: 5 'gotta do's' for this year's training camp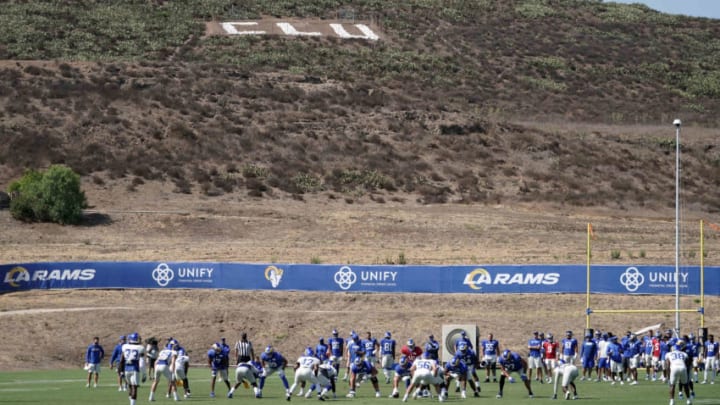 Mandatory Credit: Kirby Lee-USA TODAY Sports /
Mandatory Credit: Kirby Lee-USA TODAY Sports /
The LA Rams are counting down the days, if not hours, before Training camp officially begins. And of course, there are a host of goals, achievements, and accomplishments that will be baked into this year's itinerary. There are the nebulous coachspeak terms that you can readily expect, the phrases so often used but that truly tell nobody anything. Phrases like high-intensity, timing, and execution can be substituted for nonsense words like scooby-scabbards or care-bear emotions and convey a similar meaning.
This training camp is very important to the team in many ways. But let's pause and circle around the fact that the LA Rams are the youngest team in the NFL right now. That means that beyond the 20-30 seasoned veterans, there are the 60-70 guys on their rookie contract, and 20 or so who are making NFL introductions for the first time in their lives. Just like military boot camp, the LA Rams must make NFL players out of these young guys.
So how does that all work? Well, training camp improves everyone's overall athleticism for starters by ensuring a steady diet of cardiovascular work. Not only does that improve overall health, but it enhances the player's ability to kick into a new gear late in the game when heroics on the football field matter so much.  Then there are positional drills, where teammates who line up alongside one another or simply in the same role, will train their bodies with repetitious actions to improve their performance.
Hello mother, hello father, here I am at Camp Granada
Finally, there are group drills where the coaches emulate game-like conditions and practice entire plays or simply the pass or rushing components of complex play. In these settings, offensive and defensive linemen train their initial burst and hand placement. Eventually, intensities are turned up to full pad contact. Inter-team joint training sessions and preseason games soon follow.
But it's all just late-night television entertainment for the fans unless there are reasons to track the progress of the team. That means more than worrying about the final score of preseason games because they mean nothing. The real drama is far more granular and needs the focus to descend from box stats and scoreboards down to individual performances. Jobs are on the line folks. NFL careers can begin or end this season.
The LA Rams, if they are to harbor any hopes of playing in a Super Bowl, must build a championship foundation now. So what should fans focus on? Here are our top five suggestions: