LA Rams: 5 'gotta do's' for this year's training camp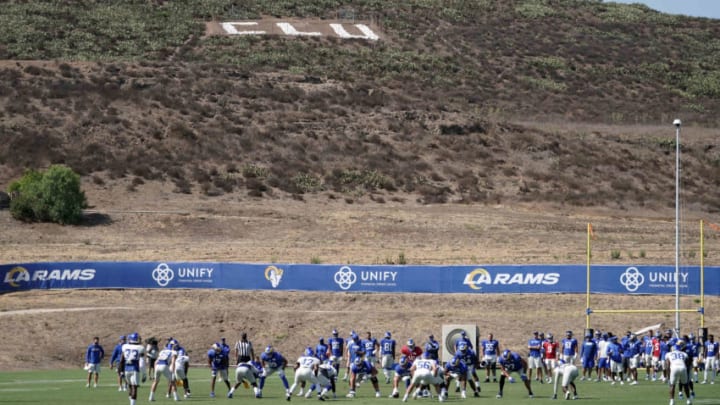 Mandatory Credit: Kirby Lee-USA TODAY Sports /
Mandatory Credit: Gary A. Vasquez-USA TODAY Sports /
Find the other edge guy
The LA Rams were patient, skillful, and a bit lucky when they discovered how readily veteran outside linebacker Leonard Floyd fit into this defense. Floyd may not land All-Pro anytime soon, but from a pure check-the-box analysis, he was able to deliver every and anything asked of him in 2020. He brought a bit of sophistication to the role, with no surrender of passion or physicality.
Los Angeles Rams /
Los Angeles Rams
Now, the LA Rams must find a player or combination of players who can replicate that intensity and production on the other side. Last year, it required more than a month before the team started to show some level of balanced play from the other side of the defense. Now, the team needs to show up on both sides early on. The Rams face the Chicago Bears, the Indianapolis Colts, and the Tampa Bay Buccaneers in September of 2021. That's a tough trio.
Of course, if Terrell Lewis shows up healthy and plays at his peak performance? No worries. But how likely will that be? Ogbonnia Okoronkwo was another young edge guy who was making significant progress before an elbow injury forced him to IR.  Justin Hollins was dependable enough, but his plays never seemed to make the highlight reels.  And of course, there is the mystery surrounding the return of Justin Lawler. Is this his year?
The Rams will be making introductions to two rookies: Chris Garrett and Max Roberts. Garrett is the small school wunderkind who is incredibly athletic and productive. He hails from Concordia-St. Paul, and dominated throughout his college career. He is raw but very talented.  Max Roberts out of Boston College has that James-Harrison-build, shorter in stature but tremendously powerful and potent.  Both will seek to impress coaches quickly in the hopes of getting a good share of snaps in critical preseason games.