LA Rams: 5 'gotta do's' for this year's training camp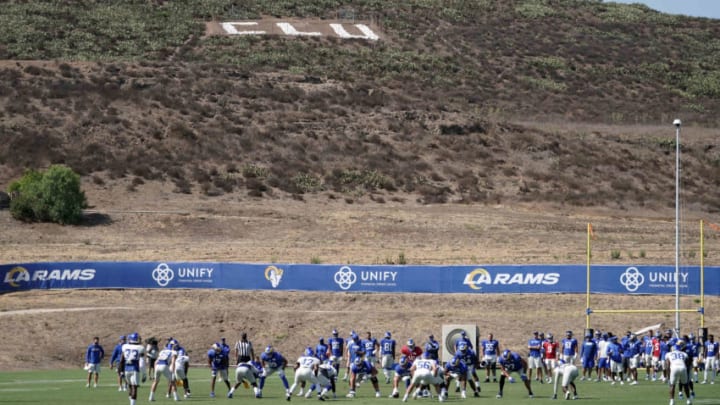 Mandatory Credit: Kirby Lee-USA TODAY Sports /
Mandatory Credit: Gary A. Vasquez-USA TODAY Sports /
Don't redshirt Harris
The LA Rams really depleted the thrill and optimism of adding so many offensive weapons in 2020 by not getting them onto the football field. Even players who did get playing time, like RB Cam Akers and WR Van Jefferson, were not given the reins to run wild until move veteran teammates were injured. Redshirting is a great luxury when a team can afford it. It has the remarkable benefits of allowing rookies to learn NFL-paced football at their own pace.
So this season, the team must find some way to get rookie TE/WR Jacob Harris on the football field. Why? Well, even if much of the information available on the young man is exaggerated, the Rams still have a tall tough target for the back of the end zone. However else you see the receiver room, there really is no match for the speed, size, and athleticism of Harris.
So taking it one step further? Harris forces defenses into a new and unfamiliar dimension when matching up against the Rams. Whether Robert Woods, Cooper Kupp, Van Jefferson, or even Trishton Jackson, defensive backs know that the receiver will run textbook routes and precision timing. So defending them all falls into the same category, throw off their timing.
Putting Harris on the field? How do you throw off a guy's timing who sails downfield like the wind and who can touch the sky when fully extended? Linebackers can re-direct him at the line of scrimmage, but won't be able to match his speed. Defensive backs can stay close, but can't redirect him. And neither will stop his lengthy arms from hauling in a pass in the end zone.
This is one rookie who should not be redshirted. He needs to be part of this offense. Huge task? Perhaps. But the rewards are huge as well.