LA Rams: 5 'gotta do's' for this year's training camp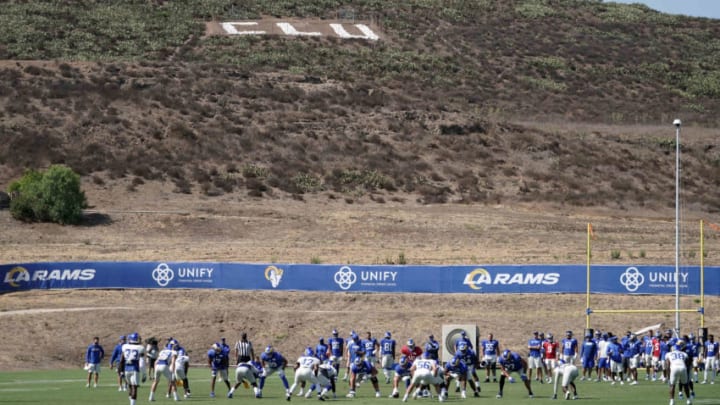 Mandatory Credit: Kirby Lee-USA TODAY Sports /
Mandatory Credit: Gary A. Vasquez-USA TODAY Sports /
Akers out, who's in?
Perhaps the most immediate and critical goal in this training camp is to get the running back situation sorted out. Of course, the fact that Cam Akers' injury just occurred and will mean he is gone for the 2021 season does play a part in the Rams still getting their arms around his absence. After all, the ink is still wet on the whiteboard form putting Cam Akers name atop the depth chart. Now, care must be given to the point of who becomes the feature back in his place.
Even before second-year running back Cam Akers was lost for the season, there were questions about the LA Rams rushing game. Now, that number of questions has tripled. Akers 2020 performance was neck-and-neck with running back Darrell Henderson, and Henderson was able to cross the plane more frequently.  But Henderson has limits as to how he runs the ball, and how often.  That is not to slight the guy. Simply stated, the Rams could burn him out in eight games by punishing the guy, or get a full season if they mete out his snaps and number of plays between the tackles.
For that matter, Henderson's method of attacking the perimeter could be a match for either Raymond Calais or Otis Anderson Jr.. And for the between the tackles stuff, it looks like it could come down to Xavier Jones and or Jake Funk. It will all come down to work in pads, and who catches the coaches' eyes in preseason games.
Has Akers' injury placed the entire running back by-committee option back on the table? Or are the Rams sorting through remaining players for a replacement feature back, and will keep Henderson in reserve for the optimal change-of-pace back that he can do so well at? Or will the Rams simply give it a go with Henderson, and sprinkle in a few carries from an as-yet-unnamed running back, who could augment the team's rushing?
Or will the Rams change it all up, and become a pass-centric offense that will occasionally run the ball to slow down the pass rush on Stafford?  All these questions will need to be answered in the LA Rams Training Camp. I am eager to see how it all sorts itself out.