LA Rams: Bubble wrapping RB Darrell Henderson is no answer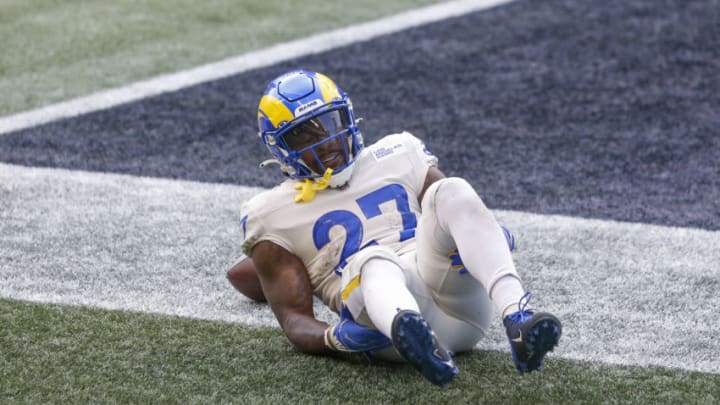 Mandatory Credit: Joe Nicholson-USA TODAY Sports /
Mandatory Credit: Joe Nicholson-USA TODAY Sports /
The LA Rams are clearly to the point where the coaching staff, if not the entire organization, is concerned about the depth at running back this year. After drafting Florida State running back Cam Akers with the 52nd pick of the 2020 NFL Draft, and despite all of the messages that the team envisioned Akers as their feature back, it required a thawing process that lasted until December 2020 before McVay warmed up to the guy.
Before December 2020, Akers carried the football 59 times. In December 2020 alone, Akers carried the pigskin 65 times, while missing a week due to a high ankle injury. In January 2021, in one regular-season game and two playoff games, coming off a high ankle sprain, he carried the ball 67 times.
That 'easing in" period may have cost the LA Rams rushing yards. Seriously. The reluctance to play Akers meant that either Darrell Henderson or Malcolm Brown carried the ball. While Henderson held his own in terms of average yards per carry, he seemed to suffer jet lag after carrying 20 times against the Buffalo Bills.
Brown was a steadier type of running back who could cross the plane with the football in his hands, but he did not possess the type of explosiveness of either of his teammates. Akers got stronger the more he carried the football. Imagine how effective he might have been if the team started feeding him the ball in November?
Brown has since signed with the Miami Dolphins. Akers has since been lost for the season due to an ankle injury.