LA Rams: Bubble wrapping RB Darrell Henderson is no answer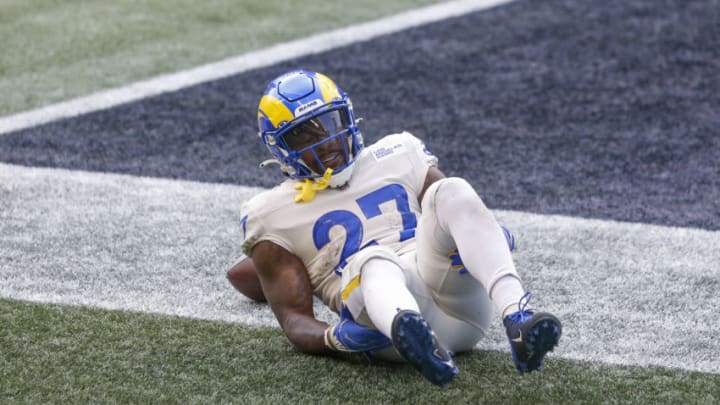 Mandatory Credit: Joe Nicholson-USA TODAY Sports /
Mandatory Credit: Robert Hanashiro-USA TODAY Sports /
Back Jack, do it again…
So here we are, entering training camp for the 2021 NFL season. The Rams have five running back on the roster, but only one running back who has ever played a single offensive snap. Pause. Take a deep breath. Pause. Exhale. Let's go over that one more time. The LA Rams' entire NFL rushing body of work is embodied in Darrell Henderson. It's all down to Darrell Henderson to carry the football and the team on his back. And that has brought out the bubble wrap for the guy.
That could pose a problem.
Los Angeles Rams /
Los Angeles Rams
If this were 2020, and the center to quarterback to running back exchange were returning veterans at those positions? No problem. Hit the bench, Henderson. Let's get a look at the other guys. But nobody played preseason games in 2020. So everyone was on even footing. And the LA Rams didn't need to 'get prepared" for the season because they had Jared Goff at quarterback, and veteran running back Malcolm Brown who opened the season as the workhorse rusher for the first two games.
Matthew Stafford, not Jared Goff, is under center. Austin Corbett, if not somebody else, will be the guy snapping the football this year, not Austin Blythe. Nothing is automatic right now. Not the snap of the football. Not the handoff to the running back. And not the timing pass to the receiver. The coaching staff will use training camp and preseason games to get everything on that offense aligned.
Well, they can only align those players who are present. Only those players who play.