6 LA Rams who can can earn their roster spot against the Broncos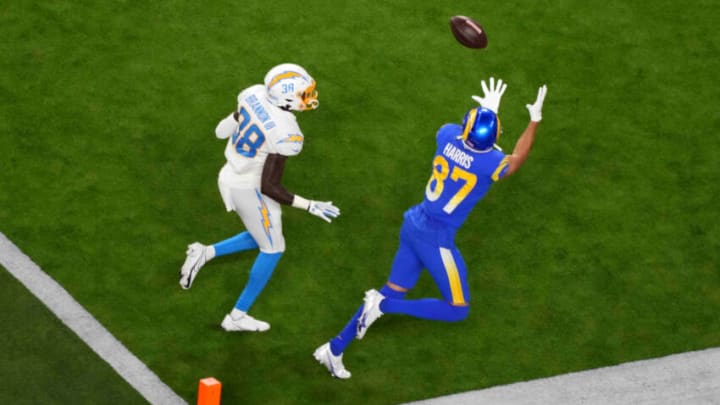 Mandatory Credit: Kirby Lee-USA TODAY Sports /
Mandatory Credit: Kirby Lee-USA TODAY Sports /
Wide receiver
There will be two things about LA Rams wide receiver Tutu Atwell that will likely be part of his narrative throughout his career. First of all, his weight that less than his listed roster weight of 165-pounds. He struggles to put on and keep on a healthy weight. The other quality about Atwell is his blazing speed. He is fast, perhaps the fastest player on the LA Rams roster.
Why this player?
An incredibly impressive punt return was called back in the second quarter after holding was called on tight end Markway. Of course, the LA Chargers played starters and the Chargers wanted this win. Atwell is the hoped-for successor to the role that DeSean Jackson will forge on the Rams offense. A speedy receiver who will stretch the field and keep defenses honest, but who can run crossing routes and get huge chunks of yards by creating mismatches.
What should you be looking for?
So far, Tutu Atwell has proven the ability to catch the ball, hauling in 10 of 17 passes for 77 yards. His longest reception so far has been 20 yards. Since the Denver Broncos' defensive philosophy is similar to that of the Bears, look for the Rams to test the Broncos with one or two jet sweeps, a screen to Atwell, or even tested their defense deep.
What constitutes a great game?
The one thing we would love to see from Tutu Atwell is that blazing speed in action. Whether that comes in the form of a jet sweep, a deep route, or a punt return. In the Raiders game, Atwell proved that he can catch the ball. Now, the last box to check off would be to pile up the yardage. A game where Atwell combines for over 100 yards of offense would be a great game.