LA Rams: These 3 Saturday games boast 6 must see Rams prospects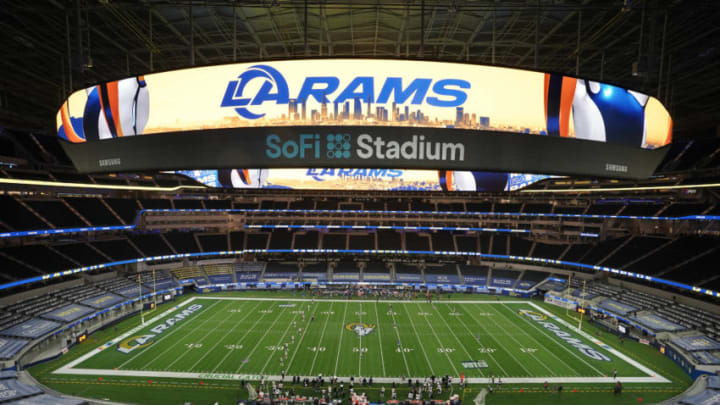 Mandatory Credit: Kirby Lee-USA TODAY Sports /
Mandatory Credit: Jennifer Buchanan-USA TODAY Sports /
Washington at Michigan (ABC) (5:00 pm PT)
The third and final contest for this Saturday's viewing pleasure is the one that many are already talking about.   The Pac-12 Washington Huskies travel to Michigan to take on the Wolverines. In the process, the nation will enjoy the matchup of Washington offensive tackle Jaxson Kirkland taking on Michigan defensive end Aiden Hutchinson. Why will so many tune in for this one? Well, it's the Reese Senior Bowl featured matchup this week.
Wahington Husky Jaxson Kirkland is a mountainous offensive tackle who stands 6-foot-7 and weighs an impressive 310-pounds. He is the son of former offensive guard Dean Kirkland, an NFL offensive guard who was drafted by the Buffalo Bills in 1991. Right now, Kirkland is projected to be flirting with a Top-10 selection in the upcoming 2022 NFL Draft. He is a tall offensive lineman with long arms but has maintained a healthy weight to ensure both power and agility as he engages with the defender. While the Rams do not have a round one draft pick, Many things can happen on the way to the draft, and Kirkland could be there for the Rams in round two.
He will face off against another gargantuan in the form of 6-foot-6 265-pound Michigan defensive end Aidan Hutchinson. Entering his fourth season, Hutchinson has 98 tackles and 4.5 quarterback sacks.  Hutchinson has appeared on ESPN's Todd McShay's Top-50 prospects list (subscription may be required) and appears on Bruce Feldman's annual athletic freak list.  We know that the LA Rams have turned up the intensity on drafting highly athletic prospects, and Hutchinson shows signs of having a phenomenal season this year.
Once more, the LA Rams will have binoculars on both sides of the football in this one. With the potential retirement of Andrew Whitworth, plus the expiring contract of Joseph Noteboom, the Rams will need offensive tackles, if for nothing more than to restock the roster. And an athletic pass rusher would be an ideal addition to the Rams roster in the 2022 NFL Draft.
Three games, six potential draft prospects. That's why college football is so much fun. You needn't cheer for either team if you have players who could be drafted by your NFL team in the upcoming draft.