NFL Player Props Week 1: Stafford/Kupp yardage over Dalton/Robinson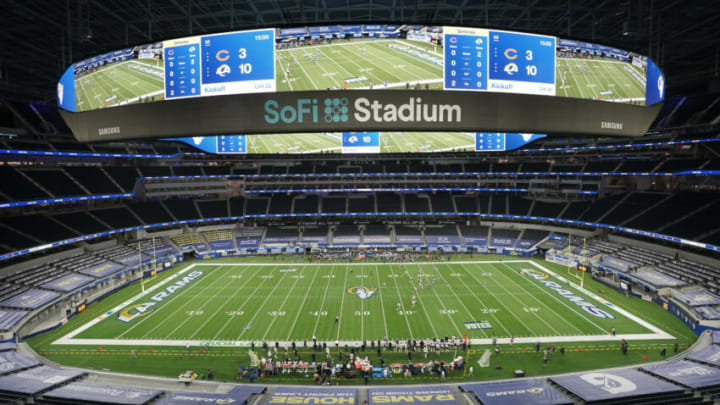 Mandatory Credit: Kirby Lee-USA TODAY Sports /
I've never been much of a risk-taker when it comes to NFL games, but over the years, I have certainly played my share of local football tickets where you spend a sum of money and try to pick the winners on that week. If you pick then at least four games with no losses, you win money. But you can throw all of that out the window now. With the great odds over at WynnBet, you can find any number of single NFL player prop bets each week.
One such bet is to play the odds over which combination will have the Most Passing + Receiving Yards in this one. Entering Week one, the favorite in this game has been set for the combination of LA Rams Stafford and Kupp. with a moneyline of -250. The underdog in this contest is Dalton and Robinson, with a moneyline of +210.
NFL Player Props: Stafford/Kupp favored over Dalton/Robinson
That means if you think that the LA Rams combination of  Matthew Stafford (passing yards) and Cooper Kupp (receiving yards) will combine for more passing and receiving yards in this one, you will need to put up $250 to will $100. On the other hand, if you believe that the Chicago Bears combination of Andy Dalton (passing yards) and Allen Robinson (receiver yards) will combine for the larger total, then you need only wager $100 to win a tidy sum of $210.
Last year, LA Rams quarterback Matthew Stafford averaged just over 255 passing yards per game. Wide receiver Cooper Kupp averaged just under 65.0 yards per game, combining for 320 yards. Their Chicago Bears counterparts did not fare as well. Andy Dalton averaged just over 197 yards per game, despite throwing to a rather formidable stable of Dallas Cowboys wide receivers. Allen Robinson averaged better than 78.1 yards per game. Combined, they come in at 275 yards total.
Of course, there are many other prop bets that you can wager on, from individual players over and under on receptions and yardage. But those types of bets can go completely haywire in the season opener. Just like NFL teams, I recommend easing into week one. But whatever your tolerance for risk, you can make your pick now on WynnBET.
Final Bets
Most Passing + Receiving Yards Stafford/Kupp