Some last minute thoughts about the LA Rams Week 3 victory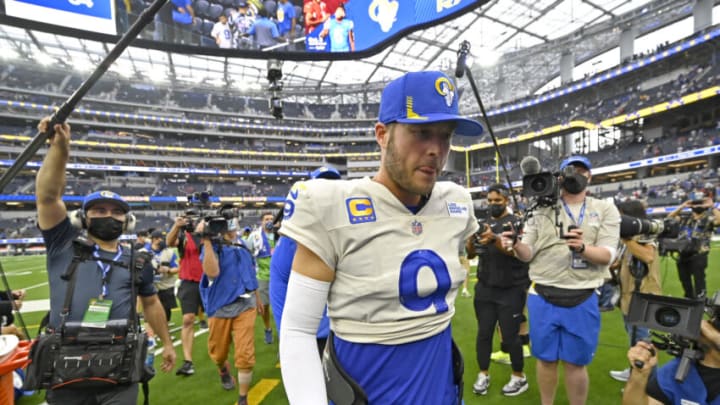 Mandatory Credit: Jayne Kamin-Oncea-USA TODAY Sports /
Mandatory Credit: Jayne Kamin-Oncea-USA TODAY Sports /
The Sunday victory where the LA Rams dethroned the Tampa Bay Buccaneers, at least in terms of removing them from the ranks of the undefeated, was special enough to warrant a two-day post-game wrapup.  It was a victory that many hoped for, and in many ways a victory that many deserved.
But in the end, a win is just a win.  If the magic number for the LA Rams to earn a playoff berth was 12 at the start of the 2021 NFL season, that number is now down to nine. it really doesn't matter who the Rams beat or by how much. Just so the team wins. Well, back that up. Defeating NFC West rivals are the best wins. The next 'best' win is to defeat any NFC team that may end up in the running for a playoff berth. The Buccaneers certainly qualify for that.
But two days after a victory, we must now join the LA Rams in turning our attention to Week 4 and the upcoming challenge of facing yet again another undefeated team in the Arizona Cardinals. Much like the Buccaneers, the Cardinals have enjoyed success so far with a tremendously potent offense, building a lead, and then ripping apart their opponents' efforts as they try to claw back into the game.
Unlike the Buccaneers though, this Cardinals defense is built to stop the pass. Well, to neutralize the opposing offense's top receiver. NFL teams can run on the Cardinals. NFL teams can pass (somewhat) on the Cardinals. But much like the LA Rams, the Cardinals have been a bit stingy when it comes to giving up points. The Rams defense has allowed fewer points, and the Rams offense has scored fewer points.
Rams head coach Sean McVay has enjoyed an eight-game winning streak over the Cardinals. But this year is the first time that he faces them without quarterback Jared Goff. Will that be a factor in this one? The Arizona Cardinals certainly hope so. Stafford has a lifetime career of 3-4-1 against the Arizona Cardinals. Here are some last-minute thoughts about Week 3 before we all turn our attention to Week 4.