Some last minute thoughts about the LA Rams Week 3 victory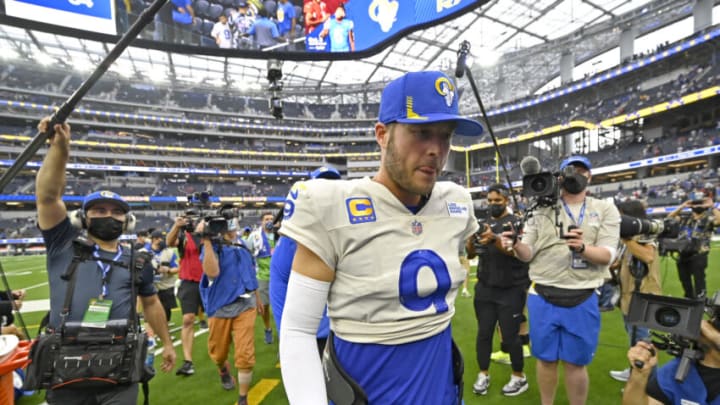 Mandatory Credit: Jayne Kamin-Oncea-USA TODAY Sports /
Mandatory Credit: Jayne Kamin-Oncea-USA TODAY Sports /
Thought I: How long can Rams keep this up?
Okay, we've determined that the LA Rams can beat a very good team on a winning streak. In fact, we know that the LA Rams can play at a championship level, but for how long? Or to stare down the elephant in the room, are the LA Rams peaking too early in the season?
We explained in an earlier article how the NFL season is a lot like a Triathalon. The first two-thirds of the regular season simply exists to thin out the competitors from the non-playoff teams. The final third of the regular season is about making a playoff run. And then finally, the playoffs arrive, where teams must win to advance. What many NFL teams do not tell you is that there is some need to hold something in reserve for the playoff run and the playoffs.
At the end of Week 12 in the 2020 NFL season, the Tampa Bay Buccaneers were 7-5 and had lost two games to the New Orleans Saints. They were not exactly considered an NFL powerhouse at the time. But they got hot, won their last four regular-season games, and rode that momentum to four victories in the NFL Playoffs and in Super Bowl LV. Those playoff victories were on the road: at Washington, at New Orleans, and at Green Bay. Their only home game during that winning streak was coming home to compete in the Super Bowl.
The LA Rams are still getting better. The defense is only now starting to exhibit a full understanding of what is needed to optimize Raheem Morris' defense. Special teams are still very much a work in progress, but progress is indeed being made. And the LA Rams offense is slowly but deliberately bringing new plays and players online as the season progresses. Now, the Rams have options to score instantly with Cooper Kupp, Van Jefferson, and now DeSean Jackson. But they still have potential in Robert Woods, Tyler Higbee, Tutu Atwell, Johnny Mundt, Jacob Harris, Ben Skowronek, and even Brycen Hopkins.
The trick is to keep winning but not show too much of your hand in the process.
Are the LA Rams peaking too soon? Well, they haven't peaked just yet. When they do, we'll need to revisit this discussion.