SoFi Stadium gives LA Rams one helluva home field advantage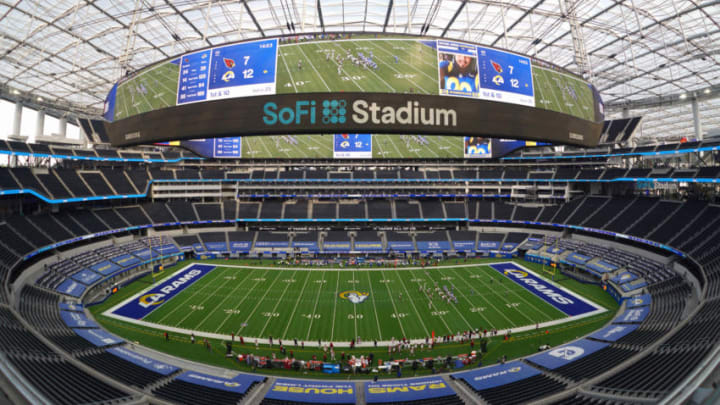 Mandatory Credit: Kirby Lee-USA TODAY Sports /
Mandatory Credit: Kirby Lee-USA TODAY Sports /
Home is where the heart is. The LA Rams have eight home games and nine road games in the 2021 NFL season. By the end of Week 4, the Rams will have just five home games and eight road games remaining. A bit lopsided? Perhaps. But with the fans in the stands, and the LA Rams fielding a new and improved team this year, it's been one helluva start to the season.
The NFL season schedulers were a bit kind to the LA Rams this year. This is the season where the Rams have 7 new coaches and coordinators, a season where the defense is playing for their third new defensive coordinator in three seasons, and a season with a brand new veteran quarterback.
Those are changes, folks. A huge number of changes. With so many changes, it's nice to get some familiar mixed in as well. The Rams are entering Week 4, and this will be the third game of the season. Even with incredibly small sample size, the Rams seem to be a much better team at home than on the road.  Why not?  SoFi Stadium is the Crown Jewel of the NFL right now.
In short, it's spectacular.
The LA Rams are doing a pretty good job of defending their home turf. In 2020, the Rams mustered a 6-2 record at SoFi Stadium, losing their two home games to the least successful teams that they faced: the San Francisco 49ers and the New York Jets.
Now, with a cheering crowd to urge them on, they are playing even better football at home this year. Of course, this is an NFC West Division game, the most important six games of the season for that matter. In the eventual rules about tie-breakers and playoff berths, the games against the Arizona Cardinals, the San Francisco 49ers, and the Seattle Seahawks have the most bearing on just how successful the LA Rams are this year.  That's why Week 4 is so very important.