SoFi Stadium gives LA Rams one helluva home field advantage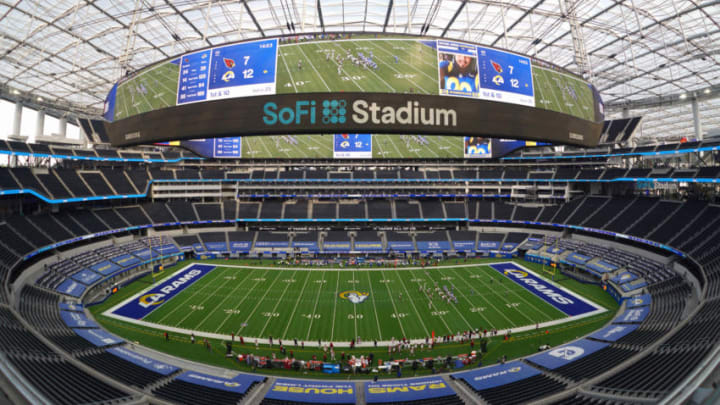 Mandatory Credit: Kirby Lee-USA TODAY Sports /
Mandatory Credit: Kirby Lee-USA TODAY Sports /
SoFi Stadium brings out the LA Rams best
Week 4 and Week 5 will host two NFC West Divisional rival games. In Week 4, the LA Rams (3-0) will host the Arizona Cardinals (3-0). The last time these two teams met, it was for the right to compete in the 2020 NFL Playoffs. The Rams (9-6) hosted the visiting Cardinals (8-7) without starting quarterback Jared Goff. Rather, the team entrusted quarterback John Wolford to make his first NFL start in a pressure cooker game. But the outcome never depended on him.
It was the Rams' defense, scoring on a pick-six and safety, that was the difference. The Rams offense, good enough to put up three field goals, was very effective at managing the clock and putting together modest drives to keep the defense refreshed. It was such an eye-popping performance by the defense that it carried over into the Wild Card round of the NFL Playoffs, helping the Rams to win and advance once more.
But what of the Arizona Cardinals? They harbored playoff hopes of their own, dashed once more like waves upon a rocky shore. It was a moment that made the Cards even more determined to be ready for the 2021 NFL season.
The Cardinals signed Houston Texans pass rush specialist JJ Watt. They signed Cincinnati Bengals wide receiver A.J. Green too. To compensate for losing running back Kenyan Drake to the Las Vegas Raiders, they signed Pittsburgh Steelers running back James Conner. They even signed Detroit Lions placekicker Matt Prater.
Of course, they lost more than Drake. Outside linebacker Haason Reddick signed with the Carolina Panthers. Cornerback Patrick Peterson signed with the Minnesota Vikings. Outside linebacker D'Vondre Campbell signed one with the Green Bay Packers. And legendary wide receiver Larry Fitzgerald is not retired, but no longer has the urge to play.  In the end, the Cardinals did add some NFL talent, but much of it simply replaces the stars who walked away in the offseason. So what is up with the Cardinals surge? And can the Rams pull the plug on their sudden success?