LA Rams OL saving the best for (Andrew Whitworth's) last?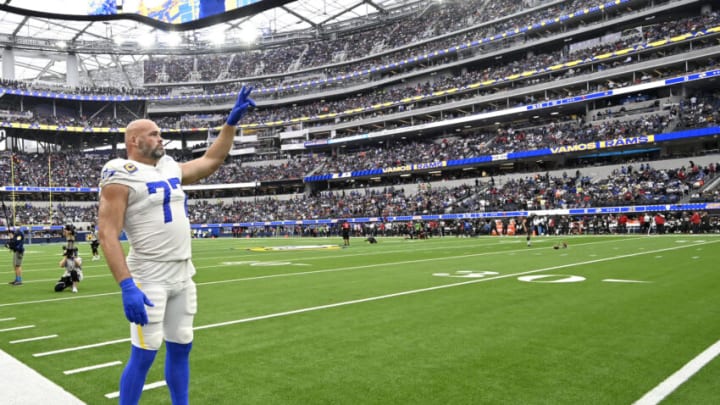 Sep 26, 2021; Inglewood, California, USA; Los Angeles Rams offensive tackle Andrew Whitworth (77) stands on the field during the game against the Tampa Bay Buccaneers at SoFi Stadium. Mandatory Credit: Jayne Kamin-Oncea-USA TODAY Sports /
Andrew Whitworth is turning 40 and continues to play one of the toughest positions in the NFL at an elite level. He should have one helluva sendoff, don't you think?
But that opens up a curious question?
How do the LA Rams send off a legendary offensive lineman like left tackle Andrew Whitworth? I mean, if you were lining up next to him on the Rams offensive line, knowing that this is likely the last season you would be playing alongside a soon-to-be 40-year-old offensive tackle, how would that impact your play?
Those are likely the thoughts that run through the minds of each and every offensive lineman on the LA Rams roster right now. The fact is that this season, whatever it brings, is likely to be the last season for the Rams Andrew Whitworth.
And why not? This is his 16th season in the NFL. After putting in a full career with the Cincinnatti Bengals of 11 years, he signed on to the LA Rams in free agency in 2017 to give newly arrived head coach Sean McVay a bookend offensive tackle. That worked out pretty well because he put up an All-Pro performance in 2017, his first year with the Rams.
Now, he is weighing his decision to retire at the end of this year, and for all intents and purposes, this could be his final season playing football.
What are the Rams going to do about it?
Now the question is, what are his teammates going to do about it?
For starters, this offensive line is head and shoulders above the rest of the NFL so far:
To be fair, the Rams have now surrendered four quarterback sacks in five games. The Buffalo Bills have allowed five. But to put this into sharp contrast, the Tennessee Titans have allowed 20 quarterback sacks. Clearly, the Rams offensive line is doing something right.
So let's see what is going on, eh?