From tears to trades: How Aaron Donald lit a fire in LA Rams organization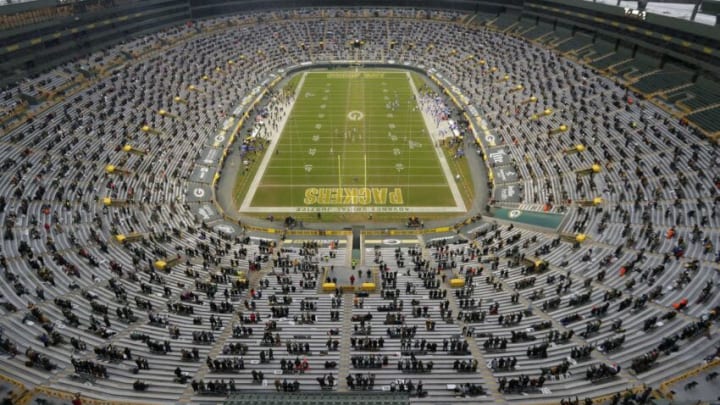 Mandatory Credit: Gpg Packersdivisional 011621 Sk23 /
Mandatory Credit: Mark J. Rebilas-USA TODAY Sports /
The impossible dream?
If he was a lesser man, he wouldn't have suited up. But he is not just a man, he is Aaron Donald, one of the greatest NFL professional football players. That is not just lip service, but rather a mindset. The team would never have questioned him if he had admitted to not being able to go. But he wouldn't have been able to live with himself if he let his team, his coaches, his brothers, down.
And yet, the scoreboard did not waiver. The final score was final. Despite playing through injured ribs, despite the best defense in the NFL, the LA Rams lost a game on the anything-but-frozen tundra of Lambeau Field.
The Rams certainly had an uphill battle to win the game. Not only was Aaron Donald injured, but the team faced the Packers without wide receiver Cooper Kupp. Even starting quarterback Jared Goff, injured just three weeks earlier and requiring surgery to the thumb of his throwing hand, was not 100 percent. All of that and facing the Packers on their home field, after the Packers had a week to rest up and heal for the game.
Still, the Rams were within a touchdown when they got the ball on their own six-yard line with 13 minutes remaining. The game was on the line and the offense appeared to respond with the makings of an offensive drive.  But Jared Goff struck too many plays on short-range, allowing the Packers defensive to find the range. First an incomplete pass, then a sack, then a short-yardage completion that had no chance of moving the chains.  With 9:53 remaining in the game, the LA Rams were done.
Sean McVay looked up to the scoreboard. The Rams' offense failed to score when the fatigued defense needed them to do so.
Q4  Time remaining: 9:53
Los Angeles Rams     18
Green Bay Packers     25
McVay watched helplessly from the sidelines and the Packers pushed the defense and the football down the field for the final touchdown of the game. He knew from the flow and momentum that his team missed a chance to claim a win. But he knew that his quarterback Jared Goff was a wild card. Either Goff would air it out in the game, but make ridiculously bad errors of judgment and turn over the ball. Or Goff would secure the football, but end up being nothing more than a glorified game manager. Sean McVay pondered that for a moment as the game ended. Then he noticed All-Pro Aaron Donald's frustration at another loss streaming down his face.
Sean McVay made up his mind. The Rams had to act quickly and decisively.