From tears to trades: How Aaron Donald lit a fire in LA Rams organization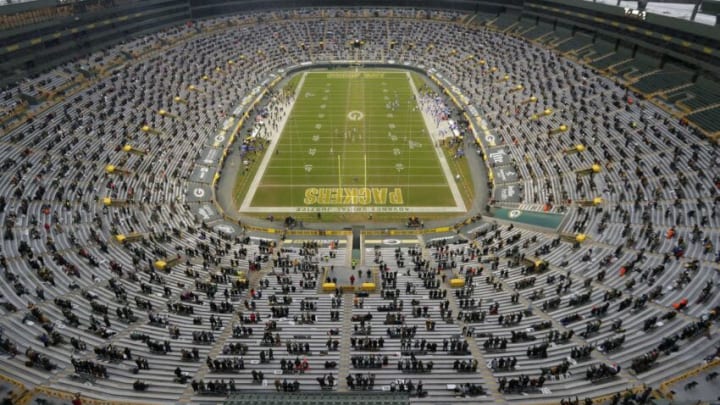 Mandatory Credit: Gpg Packersdivisional 011621 Sk23 /
(Photo by Justin Edmonds/Getty Images) /
One final piece
The 2021 NFL season opened with the LA Rams offense delivering on all cylinders. The team was able to score almost at will, from nearly any point on the football field, and required almost no time on the clock to do so.  Whatever was broken before, appeared to be repaired and humming in perfect working condition now.
But the LA Rams defense, the strongest part of the 2020 team, showed signs of neglect. Due to a shortage of cash, the team was forced to watch as a host of valuable contributors signed on elsewhere as NFL Free Agents for significant sums of money.
To 'make do', the team had to turn to younger players, drafted late, to develop quickly and take on starting and rotational roles for the team. But even as talented as they were, they are still young and raw. Football is less instinctive and more thought process, allowing for momentary lapses on the field, and creating vulnerabilities to be exploited by good teams in the win-or-go-home NFL Playoffs.
So far, the LA Rams defense is the 21st-ranked defense in yards allowed, but the 10th-ranked defense in terms of points allowed.  The Rams have faced the second-most passes of any NFL team, allowing just nine touchdowns and recording 11 interceptions. But even as opposing offenses have opted to pass against the Rams, the reason is simple. With few exceptions, the Rams offense forces opponents to pass to try to keep pace.
Teams with mobile quarterbacks give the Rams defense the most trouble. Arizona Cardinals' quarterback Kyler Murray outright defeated the Rams by scoring 38 points. Indianapolis Colts quarterback Carson Wentz gave the defense fits, losing by a margin of just two points. He ran for 37 yards against the Rams in just five carries.
With Von Miller, the Rams plan to do a much better job of containing elusive quarterbacks. They certainly have a better chance of doing so, with Leonard Floyd, Von Miller, and Aaron Donald in a position to sack the quarterback, who will offensive lines choose to double team?  The answer to that question will give the answer to which of the three will terrorize the passer on any given play.
""I love this guy (Aaron Donald). And this guy is as much motivation as anybody for why, if we don't win a Super Bowl — if this guy doesn't get one — then shame on me." – Rams head coach Sean McVay per an  interview with Jourdan Rodrigue of The Athletic (subscription required)"
Whether Coach McVay personally witnessed those tears streaming down Aaron Donald's face on Lambeau Field or learned later from social media is really not the point. The fact is that Aaron Donald lit a fire in the LA Rams organization in a way he had not done so before: Through the strength of his tears.
From those tears to two blockbuster trades. Before you judge this team too harshly about going All In and shedding more draft picks, I ask you to consider this. Would you rather add All-Pro players to this roster to win now at a fraction of their salary cost? Or keep the picks, and in the process, fail to give the best contributor on this team anything to make him believe that this organization can win it all?